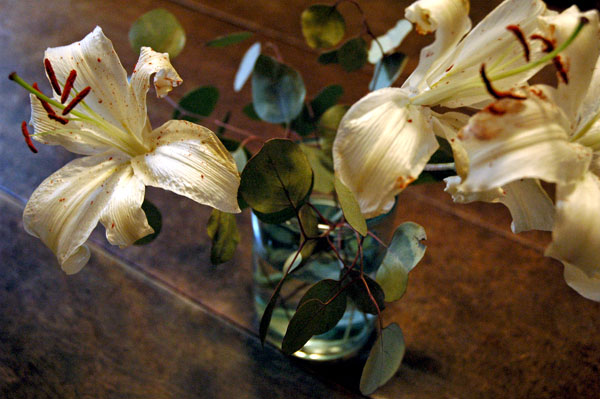 Flowers, like other objects of our affection - or lust - are usually sought out for their freshness and youth, and not for their spots and wrinkles. Anyone familiar with this site knows I love flowers, but I confess that more and more in recent years I myself seem to have so shared this attitude. It must be one of the reasons I have generally avoided purchasing cut flowers either for myself or for others.
Of course, since I have watched so many bouquets purchased from New York corner deli's die within hours of their arrival, my preference for potted plants might be explained by something other than any special aversion to witnessing the natural sequence of maturation and death. There's also that messy, complicating thought that a flower actually dies the moment it is cut.
Like their animal cousins flowers do not seem to lose beauty as they age as long as they are left in their natural environment. I've always loved looking at a landscape or garden, including those I've nurtured myself, late in the season when its flashier beauties start to fade and begin to shrivel and bend. Indoors I've thought I could only approach this phenomenon with a living, flowering plant in a pot.
Until this past week.
Thirteen days before I took the images at the top and bottom of this post I received as a birthday gift the magnificent vase of florist-arranged mixed white blossoms into which were tucked the buds of these now-fading lillies.
It lasted over a week as a bouquet (although, surprisingly, the roses left shortly before that, having never quite opened). These remaining stems, together with the Eucalyptus leaves which accompany them, have now been sitting by the window on our ancient table in this heavy old green glass "can" for many more days. They have Barry and I both great, silent pleasure while we read, write, talk, and listen to music, eat and drink.
Some time today, before midnight, I will respectfully dispose of them, but I'm going to remember the beautiful, graceful dignity of their aging.



HAPPY NEW YEAR TO US ALL, WITH LILLIES FOR EVERYONE - OF EVERY AGE!