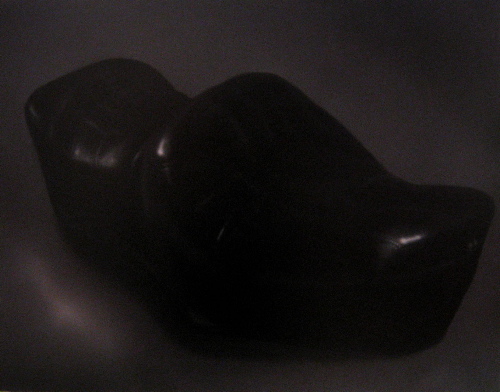 Daniel Rushton Motorcycle Seat (2004) acrylic on Panel 48"x60"



One of our happiest acquisitions, now from a number of years past, was that of three beautiful silkscreen monoprints by Daniel Rushton. Our guests usually ask about them right away, but until recently we were unable to tell them anything about Dan's current work, even though we would occasionally run into the tall young Canadian on our gallery walkabouts.
We were finally able to visit his Williamsburg studio earlier this week where we saw recent paintings which began as drawings on his computer before they were moved to canvas with bristle and airbrush. The most exciting image for me was this relatively large homage to the bike covered in a different canvas just outside the door.
Dan spoke of being interested in objects which enclose or are enclosed by the body. With works as strong as this and the others we saw on Tuesday, he won't have any trouble in getting others to share this interest.
[image furnished by the artist]