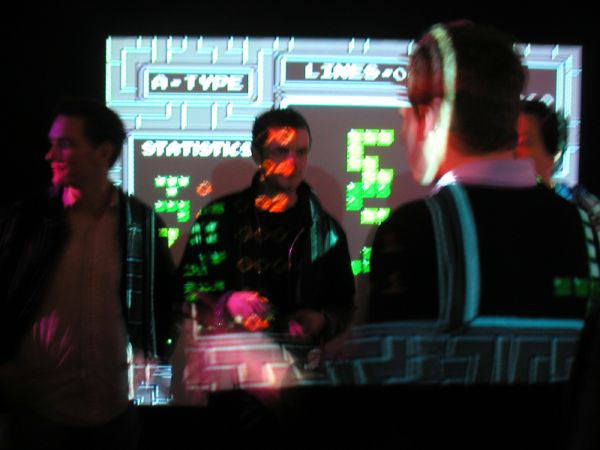 a view of some of the pleasures of the Cory Arcangel opening at Team Gallery last Thursday
He's a creative genius and a master with the modern tools he has chosen. Cory Arcangel is also one of the nicest, most likeable, winsome, and approachable people I've ever met. All of this just makes his genuine modesty pretty incredible.
His happy art (can I say that?) speaks for itself, and it will speak to just about anyone. In New York we've gotten used to thinking of Cory as our own, although beginning next week he will be showing work in Vienna, Salzburg, Zurich and London. Fortunately, both because of his fecundity and the nature of his chosen media, there will always be plenty to go around.
Arties in Europe should see the Galerie Lisa Ruyter site and click onto "project space" for information on his appearances.
Anyway, he'll be in our town for another few days. Enjoy the show which opened at Team Thursday night, "Welcome 2 my Homepage Artshow," and visit his collaboration with Paper Rad at Jeffrey Deitch in Soho anytime between tonight's opening (it's sure to be a wonderful zoo) and February 26, when it closes. The show at Deitch is called "Super Mario Movie."
Oh yeah, there's also a performance scheduled at the Swiss Institute - Contemporary Art on Tuesday, February 1, at 7pm, so our boy won't be staying long in Vienna.
On the screen in the image at the top is a projection of what the Team Gallery press release describes simply as "an absurdly slowed down version of Tetris®."
For more on the Team show, see Tom Moody's notes.