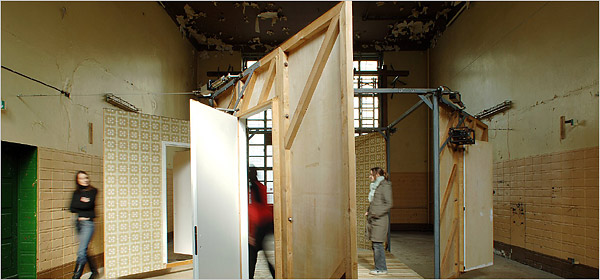 Paul McCarthy's mixed-media installation "Bang-Bang Room" (1992) in the former Jewish School for Girls.
Now I wish we were there. Barry and I don't like travelling in the pursuit of art fairs and I was going to try not to think about the Berlin Biennial too much, but Roberta Smith's report makes it very hard to do so.
They have come up with something that perhaps shouldn't work but does: an unusually poetic show that forms a kind of rebus about the arc and tumult of life itself. Its humanistic content makes it almost old-fashioned, evoking some of the Sturm und Drang of postwar figuration. Yet the art on view actually moves back and forth between Conceptual and more Romantic and Expressionist sonorities.
Even under normal circumstances Berlin is a big temptation for both of us, so missing out on the [fourth] Biennial now feels like a big mistake. Besides this fair seems to be as comfortable in its scale as it is lively in its components and inventive in its venues.
Maybe we'll catch it some other year, when we have to leave New York for our Berlin exile.
[NYTimes caption below image from Paul McCarthy/Hauser & Wirth via NYTimes]