Ulla von Brandenburg Jupe 1 and Jupe 2 2006 ink on paper, diptych 22" x 30" each [installation view]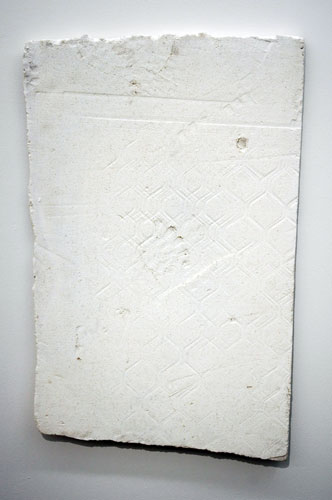 Hany Armanious Unrealistic 2007 cast Polyurethane 37" x 24" [installation view]
Sometimes a group show just looks right, although the curatorial theme may be elusive - sometimes even after a look at a press release. That probably says more about this visitor than the curator's efforts, since I have a habit of using gallery texts more as "instruction sheets" (for difficult work) than guides.
With our without extra help, Foxy Production's current show, titled "Surface Wave", does it for me. Both the installation and the individual works are first-rate. I realize that my statement about theme comes from someone whose apartment "group show" betrays no recognizable thesis either, but I'd also like to think that the choices Barry and I make are just as unmistakably idiosyncratic in their own modest way as those regularly exhibited so brilliantly on this stretch of West 27 Street are for the directors Michael Gillespie and John Thomson.
It's a small group this time: The artists are Hany Armanious, Matthias Bitzer, Louisa Minkin and Ulla von Brandenburg. They are represented by ten elegant works on four walls.