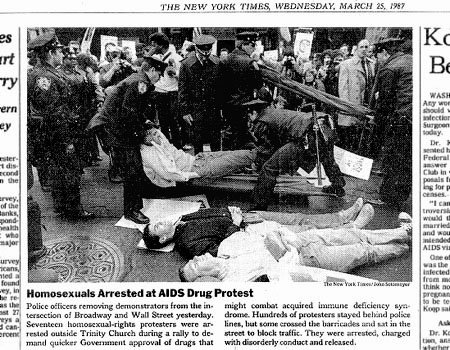 going back for more, 20 years later
Apparently as a nation we can accept throwing away something like half a trillion dollars (and counting), and very likely some 700,000 lives, on a remote elective war whose only accomplishment was a second term for the regime of the biggest Big Brother we've ever had, but we [or at least our media and our elected representatives] still think a single-payer healthcare system means handing over too much power to government.
ACT UP has always supported a single-payer health care system, and its members have always understood the role of war in thwarting its achievement. Tomorrow morning, Thursday, at 11:30 this remarkable and unfortunately still indispensable activist group of stalwarts will be marching on and in Wall Street to mark its twentieth anniversary and the beginning of its campaign to make access to healthcare for all, including single-payer insurance and drug price controls, a major issue throughout the 2008 election campaigns.
Anyone who is able to make it is welcome to join us as we gather for the march at 11 am. We will be stepping off from the Federal Building downtown, on the east side of Broadway at Worth Street, just above Chambers Street.
Twenty years on, the press will no longer be labelling us all "homosexuals", as did the NYTimes in its coverage of the first action, shown in the image above, although it was exactly that powerful picture and its caption which sucked me into the group. As far as tomorrow is concerned, while it should be assumed that only those who have decided to commit some form of civil disobedience could be arrested, there is less certainty about that than there ever was in our present terrifying, and terror-stuck, political climate.
I'm bringing my camera, for surveillance purposes.
An editorial in the current issue of The Nation is an excellent tribute* to the historic accomplishment of ACT UP and a reminder that neither the role nor the actors have yet disappeared. Excerpting the last three paragraphs of the editorial:
During the years that followed, ACT UP stormed the National Institutes of Health, the FDA and the Centers for Disease Control to protest their shortcomings. On the local level, Catholic dioceses and boards of education were targeted for blocking HIV information in public schools; city governments for failing to provide care and housing; jails and prisons for setting up segregation units. Some ACT UPers set up guerrilla needle-exchange programs; others staked out the entrances to junior highs to distribute condoms directly to students. Just as essentially, ACT UP members became self-taught experts in such arcane fields as virology and patent law and in so doing rewrote the patient-doctor relationship and helped put the idea of universal healthcare--now favored by a majority of Americans--on the political map.

Along the way, ACT UP borrowed strategies from other radical movements: antinuke protesters for techniques on civil disobedience, antiapartheid campaigners for bringing political funerals to the streets. Many of its tactics--videotaping demonstrations as protection against police brutality, coordinated but autonomous affinity group actions--have become standard fare in the global justice movement, as has ACT UP's deeply democratic tradition.

ACT UP is now a shadow of its former self, but its alums have gone on to found Health Gap, a driving force for global treatment access; the Treatment Action Group, which continues to push the AIDS research agenda; and Housing Works, which has won housing for thousands of New York City's HIV-­positive homeless. And true to form, the organization will mark its twentieth anniversary with a march on Wall Street March 29 to demand single-payer healthcare for all.
*
including a candid apology for the progressive journal's own historic neglect: "Though barely noticed in the pages of this publication, ACT UP would revolutionize AIDS research and treatment, as well as inject new life into the gay movement and infuse the tactic of direct action with its own style of theatrical militancy."
[image from actupny]