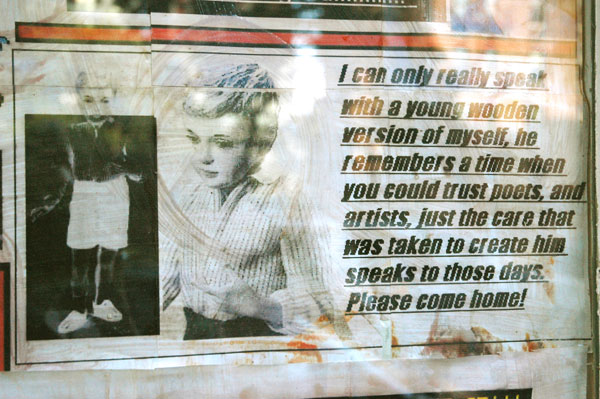 missing person flier in the gallery window
Jacques Louis Vidal's appearance at Sunday is more than a show; it's a way of art, a two-way street for both the artist and the viewer. At the opening reception of "Wood Folks is Good Folks" the artist enlisted himself and some half dozen volunteers in a performance which literally wound through (and into) the entire gallery installation. He's promised one more performance for this Saturday, July 7, a workshop called "making friends + keeping friends". It should start soon after the mesquite cookout, which is on the schedule from 1 to 4. I definitely recommend a visit to Eldridge Street that day.
Vidal's performances and sculptures evoke traditional folk-tale forms and, well, a lot of slacker high school shop, but his subject appears to be a contemporary and grown-up concern with the absurdity of a world created by the rude political, commercial and religious heirs to that more humble and more muted America and its naive how-to culture. Whether inhabited by his own body in performance or seemingly discarded in a gallery, the stuff Vidal creates incorporates toys and monsters, natural relics and human monuments, terrors and amusements, prayers and ad copy, paper and scissors, shiny foil and dull tape, string and wood (always lots of wood). The sculptures, like his (literally) fantastic drawings, display a (misleading) childlike simplicity, and his performances have a charming earnestness almost always leading to some form of embarrassment for the actor himself.
But all this cool "stuff" is only the beginning; what lingers is a very post-post-modern questioning - and the generous spirit of the artist.
I almost forgot. We've been excited about his work since first seeing it in March of 2006 and Vidal was an extremely important part of our curated show last fall.
The images on this post were all captured during the opening on June 22. The series below begins with the artist's performance, moves on to the Houston Astrodome sculpture and Vidal handling the two-headed, tiny-footed wooden man. The last photo is a detail of a wall collage representing the home being prepared for all the good, wooden folks.
Barry has a post with another image from the opening, a link to his flickr set and a 45-second video clip of the performance.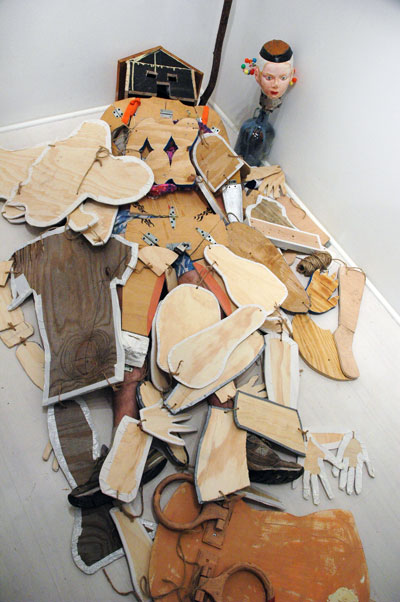 artist inhabiting his work