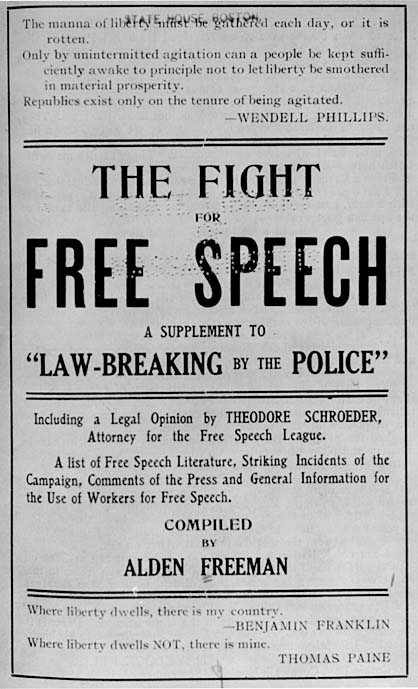 cover of a 1909 pamphlet created to protect the right of free speech at a time Emma Goldman was being prevented from speaking
How often does the NYPD have to be reminded about the First Amendment?
Two days ago all charges which the police had brought against the Reverend Billy for reciting the First Amendment to officers harassing Critical Mass cyclists in Union Square on June 29th were dropped.
New York's guardians of [certain kinds of] law and order have once again failed to have their behavior upheld by the courts. Fortunately this time it was not the soft tissue of a citizen victim that bore the injury, but the tissue of the civil liberties each one of us shares. The escalating, accumulative record of police misconduct like this, regularly authorized and protected by Departmental and civilian municipal authorities, assaults our Constitutional protections and it may some day effect a mortal wound.
The NYTimes article by Anemona Hartocollis barely hints at what should have been a huge embarassment for the arresting officers and those who had handed them their assignment:
The Manhattan district attorney's office quietly dropped its prosecution today of Reverend Billy, a street performer accused of harassing police officers by reciting the First Amendment at a rally in Union Square Park.

Prosecutors said today that they deliberately allowed the case to be dismissed by failing to meet a court-ordered deadline to file papers explaining why the arrest of Reverend Billy, whose real name is William Talen, was justified.

"Sometimes not making a decision is a good decision," one prosecutor said.
Norman Siegel, Billy's lawyer, let the Times know that the incident wouldn't end there.
He said he would file a federal lawsuit against the city and the Police Department charging false arrest, malicious prosecution and violation of Mr. Talen's free-speech rights.

"We call this trial by inconvenience," Mr. Talen said, adding that between the two cases he had been required to appear in court six times and spend three nights in jail.

"There are a number of questions," Mr. Siegel said. "Who ordered the arrest? Why put him through the system when he should get a desk appearance ticket? Who made the decision to take five months before getting the case dismissed?"

He called the case "a classic example of government abuse of power."
The hundreds of plaintiffs suing the city and the Hudson River Park Trust over the dangerous condition of the holding pens in which they were dumped following their arrests during the 2004 Republican Convention are experiencing their own continuing abuse and hardship. A article written by Chris Lombardi, "Pier 57 cops also exposed to toxins during 2004 RNC", which appeared in a recent issue of Chelsea Now, is interesting for many of its revelations. In it Lombard reports:
Right now, the suits are still at the deposition stage, with the 500-plus plaintiffs spending days at the federal courthouse downtown.

"They're keeping them for eight hours at a time, sometimes," said [Environmental Justice Law Project] co-founder Martin Stolar.
Eternal vigilance is the price of freedom, but do we have to pay for despotism too?
[image from the Emma Goldman papers, sunsite.berkeley.edu]