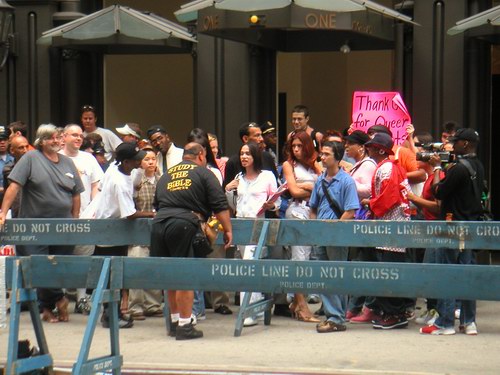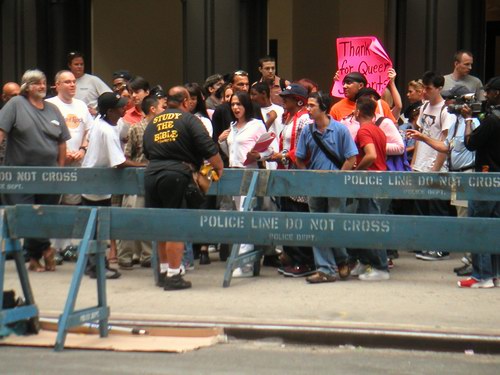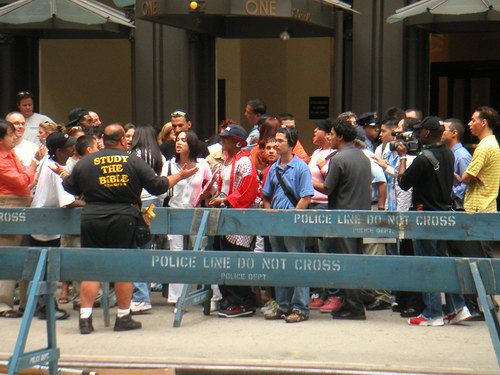 For more images, from this morning, go here.
We returned to Astor Place just before 3 this afternoon, to help the kids as they left school – should they need it.
They didn't, and it was both because the nuts mostly stayed away and because, as all who were there today learned, they can take care of themselves, especially if they have their community. These kids have seen a lot already, and maybe they don't have to take it anymore.
Fred Phelps and his family have almost certainly left New York, to resume their ghoulish specialty thing of screaming at funerals of gay men all across the country. At 3 o'clock there were only three bible-thumpers in the Christianist's police pen [one of them the hottie I described earlier].
For a while, slipping out of the police barricade, the younger two posted themselves across the street, on the sidewalk closer to the school doors. They continued their harangues there, just next to the press area. Four of us spotted them and took it upon ourselves to move there and insert ourselves and our signs in front of them and their bibles. As the kids left the building and some passed by us, our numbers eventually having swelled to 10 or so, we managed to out-shout even the ugly big one with our major cheering.
The police eventually persuaded the two to return to their original pigpen, where all three soon found themselves confronted by the kids themselves. Some were shouting from the south side, but many had crossed the street to investigate their antagonists and to confront them in arguments. Whether they learned anything or not, I think the cult guys were shocked. The shaved-head guy left early with his friend, but nothing seemed to discourage the last one, least of all his own stupidity.
I was stunned by the students' style and, well, their surprisingly gentle humor and good will. The short photo series above is pretty decent witness.
Yes, the kids will be alright.
For more about this afternoon on Astor Place see Bloggy.