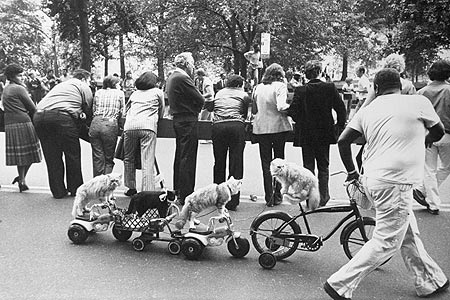 just another day on the street
Last time it was the MTA, and now the Mayor of New York City wants to keep us from taking its picture.
The Transit Authority eventually gave up on its proposed photography ban, but now the same kind of primitive fears and territorial claims have spawned another threat. The gothamist has the story:
The Mayor's Office of Theater, Film, and Broadcasting, which coordinates film and television production and issues permits around the five boroughs, is considering rules that could potentially severely restrict the ability of even amateur photographers and filmmakers to operate in New York City. The NY Times reports that the city's tentative rules include requiring any group of two or more people who want to use a camera in a single public location for more than a half hour to get a city permit and $1 million in liability insurance. The regulation would also apply to any group of five or more people who would be using a tripod for more than ten minutes, including the time to set up the tripod.

And are we going to learn next month that if two or more people want to leave a building at the same time (including their own homes) they'll have to get a police permit? And don't forget your papers. The city's government and police are totally out of control!
This is New York CIty, damn it, not Moscow or Beijing!
My shock at this latest assault on urban spontaneity, creativity, the simple rights of assembly and expression, and of course what our leader has called "the internets" doesn't mean I've forgotten that for years the police have already been stopping people all over the City, even individual amateur photographers, for using their cameras. The officers ask questions, sometimes telling them they weren't allowed to shoot pictures in public places, and then asking for their identification and making them wait while their information and the detainment is recorded on the officer's day record. I'm sure this will continue to go on regardless of whether the proposed new police authority is effected (as usual, without hearings or a City Council vote).
I hope I'm not the only private citizen in New York who is also thinking of the impact the rule would have on our ability to document police abuses themselves, but I'm sure since taxpayers have been shelling out a fortune in awards to those falsely-arrested, injured or killed by an unrestrained constabulary, both the Mayor's office and One Police Plaza understand the proposal's ramifications perfectly.
These proposed new police rules follow another civil liberties abomination, one recently initiated by the NYPD itself, with the collaboration and actual authorization of former Leftist-activist Council Speaker Chistine Quinn.
Neither notions about swift vehicle traffic flow nor the mantra of "9/11" should be allowed to transcend our proper concern with strengthening an increasingly-precarious civilization.
Many of us thought our system of law enforcement was already arbitrary, but apparently we ain't seen nothing yet. Be very careful the next time you question an officer of the law; he made it.
[image by Mason Resnick via adorama]