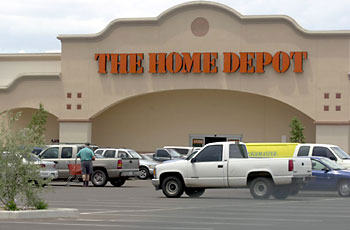 coming soon to a neighborhood near you

Why is it ok to open in Chelsea what was condemned in the Village?
So-called "big box stores" are coming to Manhattan, and the biggest will be on 23rd Street.
Home Depot is planning to open a store next summer on 23rd Street, on the busy block just west of 5th Avenue. The firm will open another store in the former Alexanders building next to Bloomingdales, without any doubt one of the most hopelessly-congested neighborhoods in the city.
Three years ago the Village angrily rejected the plans of another big box retailer, Costco, to open a store on Pier 40.
So, have the floodgates now been opened for the "category-killer" suburbanization of Manhattan? It's already in process, as bloggy points out, but even the folks at Primedia's "Retail Traffic" site [until May 2003, known as "Shopping Center World"], recognize the significance of the assaults planned for 23rd Street and Lexington Avenue next year.
Will the arrival of Home Depot mean that other big boxers such as Target will come to Manhattan, too? The barriers to entry still exist, including a shortage of appropriate spaces, logistics problems and high costs — not to mention the intense NIMBYism of Manhattan residents.

. . . .

The biggest obstacle remains community opposition. Small business owners fear the impact of the category killers, and some residents object to the traffic and noise that the high-volume stores would generate. In addition to nixing Costco and holding up the Pier 40 project, New Yorkers have also opposed plans by the city to create big-box districts in derelict manufacturing buildings.

. . . .

Meanwhile, Target is circling Manhattan, looking for a site — literally. Last fall, the trendy discounter hired a barge off Manhattan's Chelsea Piers for a special Christmas shop.

It's not just about traffic of course, and it's not just about aesthetics, although neither issue is unimportant to New Yorkers. As barry protested this evening, he didn't flee middle America for New York in order to be pursued by the conformity that drove him out in the first place.
Hey, this is New York. In fact, damn it, this is Manhattan. Where's that "community opposition" obstacle?