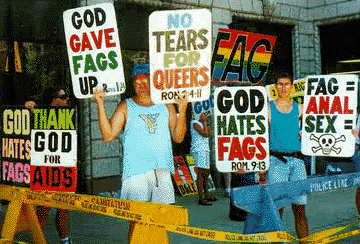 local color, now in New York
I've never been drawn to demonstrations with a "battle of the bands" scenario, but sometimes the people who need help need help on the scene, because the really bad guys will be there threatening them.
This seems certain to be the case this Monday for the students of the Harvey Milk School on Astor Place. Regardless of the complexities of arguments over what the city is doing about homophobia, vulnerable kids don't need the aggravation and hate with which they are being threatened on their first day of school.
Fred Phelps and his sick entourage will be protesting the fall opening of the school early Monday morning. The people organizing the protest are the same ones who protested at Matthew Shepard's funeral. Fortunately, their website is down, although that means I miss out on linking to it here in order to give just a hint of the malevolence of this cult. [Our fabulous friend Elizabeth, who first alerted me to their plans, absolutely denies credit for the hackwork.]
Supporters are encouraged to be at the school at 7:30 am on Monday, September 8 (first class is at 8:00 a.m.) and 3:00 pm (end of school day), with happy signs and encouragement. The Harvey Milk School is located at Two Astor Place at the corner of Astor and Broadway (take the 6 train to Astor Place or the N or R to 8th Street and Broadway).
Please consider helping to welcome these young people to school. The idea is to bring signs conveying the importance of education and safety for all of our children.
This thing is media candy, especially since we have our own cache of notorious homophobes here in New York, including Ruben Diaz. Be ready for your close-ups, and your fabulous sound bites.

[image from Dr. Truluck]