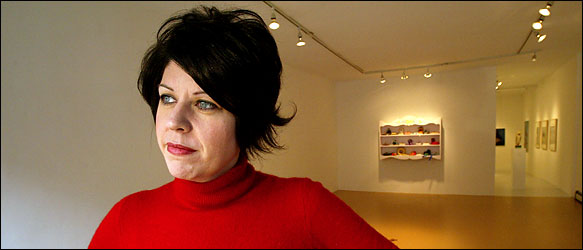 Becky Smith
Friday's NYTimes "Weekend/Fine Arts" section has some great pleasures, almost without any guilt, for those of us who can't just surround ourselves with enough stuff about art.
In two long, illustrated front-page articles on the newer New York visual arts scene, one about the youth driving it, the other about its Brooklyn incubator, even those not yet a part of this dynamic can share in its enthusiasms and its delights.
My favorite quotes from the "Youthscape" piece come from Bellwether's Becky Smith in Brooklyn and from Daniel Reich, who runs his eponymous space in Chelsea. Becky seems to think that the gallery business doesn't have to be run like the Coke-Pepsi thing.
"We tend to look at our businesses in a different way from another generation of dealers," said Becky Smith, the owner and director of the Bellwether Gallery in Williamsburg. "We don't see the art market as one big pie that we all have to fight over, but as something that is endlessly expandable. If we can make people excited about our galleries and the kind of art and artists we show, then we figure this will benefit us all."
No one would ever expect to find Daniel Reich in a corporate office either.
Mr. Reich says that for the younger dealers the art business is less about making money than about expressing the values and experiences of his generation. "It's all about being happy about whatever you can be happy about," he said. "My generation grew up in a time when we didn't have heroes. You grew up believing you were being hoodwinked and manipulated — and knowing you were, but learning to enjoy it because it came in fun colors or was on MTV.

"The bottom line," he added, "was that I really wanted to have a gallery, and sometimes you just have to start doing something with whatever you have at your disposal."
We love you guys.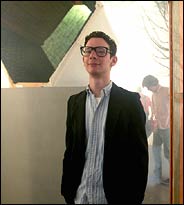 Daniel Reich
[images by Fred R. Conrad for The New York Times]