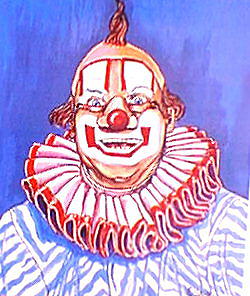 Clarabel
Clarabel died on Friday!
Most of the people reading this won't even remember Captain Kangaroo, but for me Bob Keeshan will always be most important as the mischievous and arch Clarabel the Clown on the Howdy Doody Show.
Keeshan seems to have been a very nice man, and he had a fine sense of priorities, perhaps surprising in a television star.
Asked on one occasion how he could star in his own show, engage in lecturing, volunteer, study French and still spend time with his family and his hobbies of photography, fishing and sailing, Mr. Keeshan replied, "One of the big secrets of finding time is not to watch television."
More than likely he'd lose his job if he were to say this while working in commercial television today.
[image from the Clown Museum]