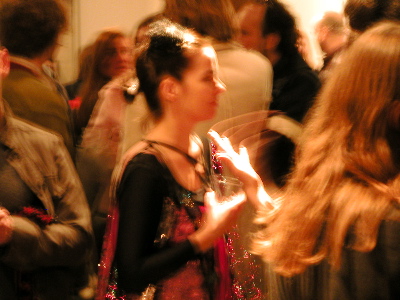 just hanging out with friends

Two nights ago Bloggy seemed to be suggesting that "a certain Icelandic singer" would show up at the Jack the Pelican Presents opening tonight, and sure enough, the fans were not disappointed. A certain perhaps-the-most-famous-American-artist-in-the-world, her very biggest fan, was also there, by many reliable accounts, but unfortunately we never saw him.
The gallery installation was the North American debut of the three women of The Icelandic Love Corporation collaborative. Oh yes, Hrafnhildur Arnardottir was there as well. Is there anyone left in Iceland who isn't an artist?
Judging from our modest experience, Björk regularly shows up looking like a fairy princess on a visit from another galaxy, but she doesn't just breeze in with courtiers and disappear into protected space or speed back out the door. Like the last time we saw her at a gallery opening, she was comfortable in the midst of the crowd and, although she was already there when we arrived, she showed no interest in leaving even by the time our own group had tired of the festivities.
The crowd was gentle with celebrity. Hey, it's not only New York, it's Williamsburg. We're all famous.