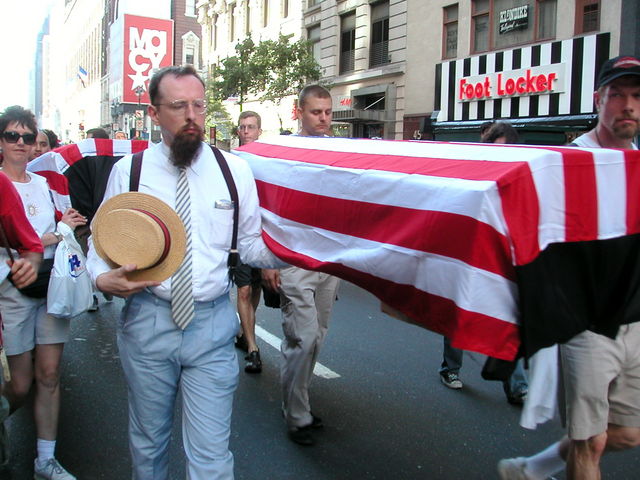 escorting one of the coffins included in the "1000 Coffins Project"
Barry and I were out on the streets for over six hours today, and I don't have the energy right now to do justice to a proper report. The 51 images in this gallery will have to suffice, at least for now.
Our own experience was of a very energized but ultimately very mellow crowd, but we've been listening to anoise.org since returning home around 6 o'clock, and all is not well out there in Republicanland. It seems that among the many people being swept up off the streets to avoid offending the sensibilities of Bloomberg's Convention guests are a number of queers who staged a kiss-in in front of the Central Library [CORRECTION: it's now reported that it happened at 46th and Broadway] and just about anyone not carrying red NYTimes goodybags as they emerged from matinees in the Times Square late this afternoon.
Don't trust the mainstream media for information. They're either totally ignoring what's really going on in New York today or else their corporately-financed prattle simply mouths the words packaged by Police Department public information sources. Do some homework; you'll be amazed at what you'll find.