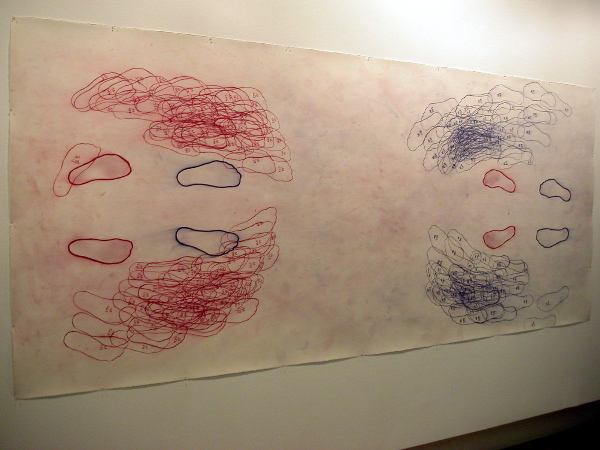 Type A AA <-> AB / 200 (NL) (C) 9.30.04 [yes, that is the title] (2004) crayon on paper 60" x 140"
They're back. Type A, the collaborative team of Adam Ames and Andrew Bordwin, has returned to Sara Meltzer Gallery with "Push." Known for video and still imagery exploring how contemporary American males relate to each other almost exclusively through aggression or competition, the team introduces drawing into their work for the first time in this show.
Barry and I were the first to collect their work, a number of years back, and we were thrilled to be able to do so. The excitement hasn't diminished.
I'm happy to report that the intelligence and humor which has marked everything they have done survives in this grand and gorgeous, three-part installation.
There are large drawings in the first room, video in the gallery's "neck" and photographic diptychs in the third space.


Type A AA <-> AB / 3-1 [again, yes that is the title] (2004) digital c-prints, diptych, each panel 20" x 24"
[diptych image from Sara Meltzer Gallery]