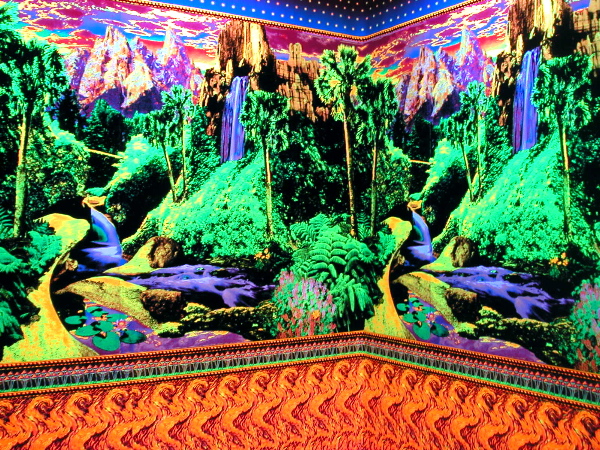 Virgil Marti Landscape Wallpaper with Star Border and Shrooms and Flame Dado (2001) screenprinted flourescent ink and rayon flock on paper, dimensions variable, detail of room installation
Dunno what to say. Virgil Marti just keeps exploding in magnificent excess, and always in excellently outrageous taste.
I suppose this will surprise anyone who has seen the environments with which I've always surrounded myself, but I really wish I had the means to live somewhere in the midst of the wonderful stuff of his current show at Elizabeth Dee.
[Unfortunately the gallery website hasn't been updated since the spring.]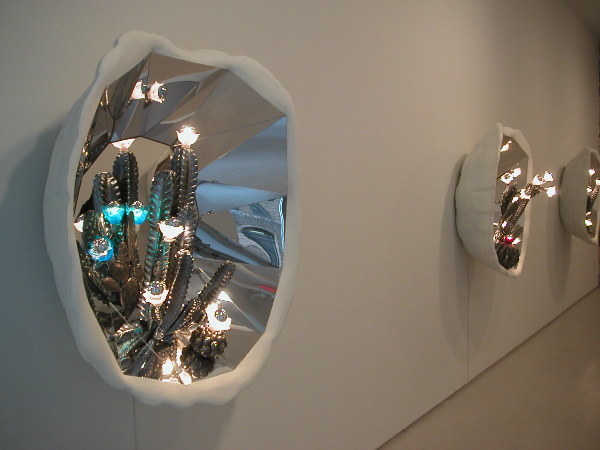 Virgil Marti Sconce (Electric Blue Apogee) (2004) vacuform plastic, urethane foam, Plexiglas mirror, chrome automotive paint, Luminore, Swarski crystals, epoxy resin, electrical wiring, 1/2 chrome 25-watt bulbs 46" x 45" x 15" installation view, with related sculptures visible to the right