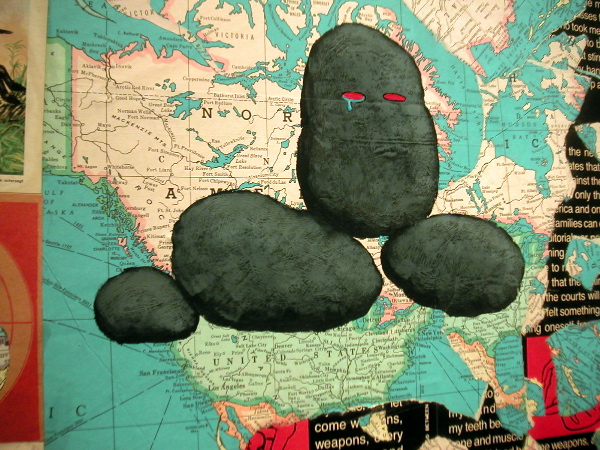 David Wojnarowicz untitled (1988-89) collage on masonite 39" x 32" detail
David could make the stones weep, but he could also make them scream. Last night we were welcomed by PPOW and Poets House to a tribute to the artist and writer David Wojnarowicz, who died of AIDS complications in 1992. The evening was scheduled for one of the last days of the gallery's current show, "Out of Silence: Artworks with Original Text by David Wojnarowicz." Five writers, artists and activists read from his texts or delivered original work inspired by his art and his rage.
For someone who had met David and who had been familiar with and in awe of his power for twenty years, the most surprising thing about the evening was the description and engagement of the overflow crowd; most of the people in the room were too young to have known the man whose memory brought them together last night.
The young novelist and poet Douglas A. Martin read an excerpt from Wojnarowicz's powerful memoir, "Close to the Knives," the scene where the artist/poet describes an erotic encounter with a stranger inside his "salesman station wagon" parked off a deserted road somewhere in Arizona. This was more of a performance than a reading. David was in the room.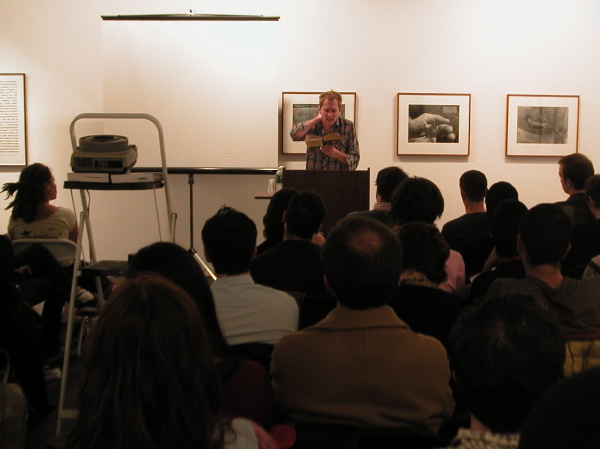 Douglas A. Martin inside David Wojnarowicz
His former lover, Tom Rauffenbart, reminded many in the room that David was not just an angry man. A child who loved life of all kinds, he never shut down an extraordinary curiosity which began very early. One of the works on display in the room was a black and white photographic print showing an obviously homemade biological specimen (certainly not dead from David's hand) in a jar on a windowsill. There was a text within the image, small white print in the lower right corner:
When I was a kid I went into the backyard and tried to
dig a hole to China with a shovel and a bucket. After an
entire afternoon I hadn't even left New Jersey
For more on David and the evening, see
Bloggy
.