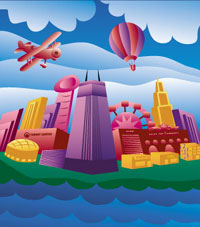 "In Minnesota," this morning's NYTimes headline reads, "Flu Vaccines Go Waiting."
Setting aside the question of how we got into a situation where throughout the country this year there are only a fraction of the flu shots which should be available, how can we get a bigger supply of this kind of people?
In most places, people are clamoring for flu shots - waiting in lines, calling every clinic in town, even going to Canada. But in Minnesota, the opposite problem has emerged: even people considered most vulnerable are forgoing the shots so there will be enough left for others.

This puzzling reaction has left state health officials charmed, but also urging an estimated 1.6 million high-risk residents to be vaccinated.

Concerns about quality control at a vaccine plant in Britain led to a shortage of flu vaccine in the United States and led health officials to ask that shots be limited to those most susceptible to complications from the flu, including children younger than 2, adults older than 65 and the chronically ill.

But in Minnesota, officials said, more high-risk people are passing on the shots than in years past.

Ann Thiel, 88, of Inver Grove Heights, said she had gotten a flu shot every year for the past decade after a case of the flu caused her esophagus to rupture. But after hearing about the shortage, she decided not to get her annual shot.

"I think an awful lot of money is spent on people my age at the expense of younger people," Mrs. Thiel said. "I think I've had more than my share of good luck."
[image from Northwestern Health Sciences University]