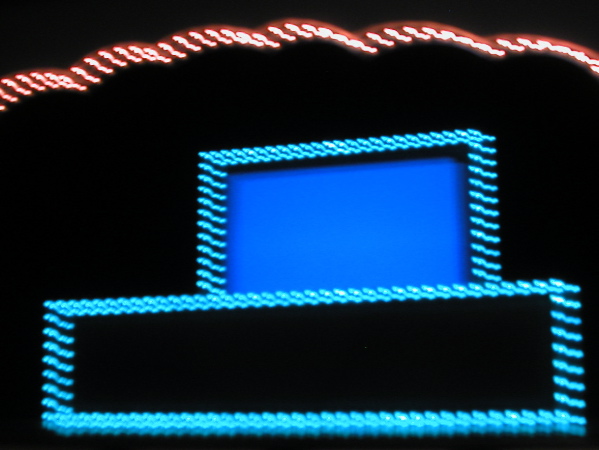 Wednesday, the stage at the New York State Theater, before the lights darkened
We went to New York City Opera Wednesday night to see Charles Wuorinen's new opera based on a short novel by Salmon Rushdie, "Haroun and the Sea of Stories."
Almost totally bummed because of the national disasters reported over the previous 24 hours, we really weren't expecting to be greatly amused. According to the reviews we had read we would find a delightful story seriously handicapped by its dependence upon the composer's complex 12-tone techniques.
We both loved it on every level, for each of its elements.
We knew the story and it really is delightful. It's definitely not simply a children's story, although there were plenty of smart New York kids there with their parents. It was written while Rushdie was forced to hide from the mortal threat of the fatwa directed against him because of his writings. The book is a fable about free expression. It's as fresh as tomorrow morning's bread. In Act II the evil Khattam-Shud complains about the limits of his dark authority, singing,
Inside every single story
There lies a world, a story world,
That I cannot rule ar all.
It is beyond my control . . .
It spoils everything!
The libretto by the poet James Fenton, necessarily more condensed than the book, did so with great success, tightly playing with the pleasure of words both real and imagined, in delightful groups strung together and wound around or threaded through each other.
I admit that serial music holds no terrors for me and under normal circumstances I would have been delighted to be looking forward to a live performance of an entire opera using its forms. We have a large wall cabinet stacked with the sadness of 12-tone opera sound-only recordings, their visuals unfulfilled. I was surprised and delighted to find that Wuorinen's score was a perfect foil for the story, the singers and the glorious sights unfolding on the stage.
And what sights they were! In their totally uninhibited color and movement, and with imagination not bound to any reality or even to the usual conventions of fantasy, the sets and costumes fulfilled the promise of the story. I don't think I've ever seen anything more delightful on a stage, opera or otherwise. I'm not normally sighted shrieking in glee from a seat in Linclon Center.
Election? What election?
There are still three more performances, one tomorrow afternoon and one in the evening on Tuesday and on Thursday.