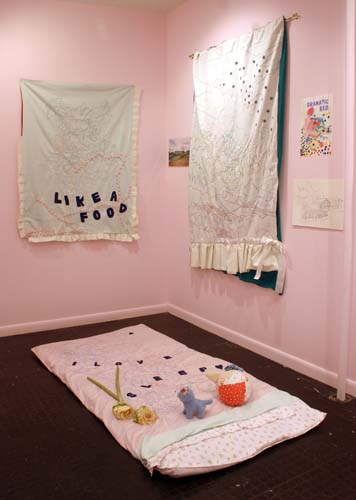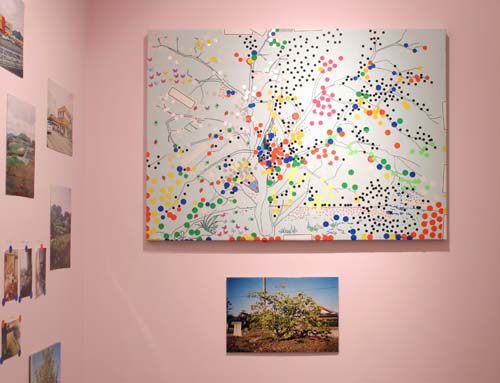 Lital Mehr was holding down the fort at Bill Brady's ATM Gallery on Avenue B and East 10th Street a week ago when we stopped in to see the first New York solo show of an exciting young Tokyo artist, Chie Fukao. The two images above are details of a gallery installation which almost defies description. The exhibition includes photographs, collages, drawings, sewn clothing and other materials, sculpture, and found objects, some of the pieces the creation of her mother or younger sister.
Several of her works on canvas represent something of a culmination of a process in which Fukao passed one image through several media in succession. Those pieces may be the most sophisticated in a show which has absolutely no clunkers, but on this first visit I was most excited about the softer stuff suspended from hangers or pegs, or left lying on the gallery floor.
It's a little messy, but absolutely lovely, and you know you're in a very new world the moment you walk through the door. I'm going to want to see more of it.
In the middle of our conversation that afternoon Lital said something about how absolutely fearless Bill was about taking chances, above all in trusting an artist no less than his own good judgment. She's absolutely right. We've been fascinated watching it happen. It's what makes ATM so important.
[images from ATM gallery]