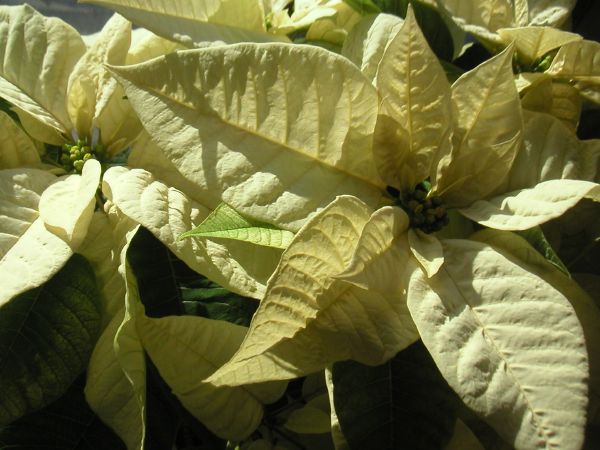 My mother grew up in a large German Catholic family on a prosperous dairy farm in Wisconsin. Tradition was important, so important that even into her children's generation the excitement of St. Nicholas Eve, December 5th, managed to give Christmas Eve some pretty good competition.
Having later lived in a very elegant style for a short time in Los Angeles during the late 20's, and being familiar with the history of the plant's marketing, she always told us that she didn't think Poinsettias should have anything to do with Christmas. While growing up I absolutely loved the holiday, but our house always remained Poinsettia-free, just as it stood impervious to the much-advertised charms of shiny aluminum or pastel plastic trees during the peak of their popularity.
Today I've shed absolutely any attachment to December 24th (or 25th), but my mother's attitude toward Christmas has preserved this beautiful weed for my enjoyment. I've abandoned the religion as well as the holiday, but I still love occasion and I'm crazy about flowers. The bright red version is still a little too much identified with the celebration of a virgin birth or a visit from Santa Claus, but I really love every other color of the blooms most people think of as the Christmas plant.
This one sits on our dining room table tonight.