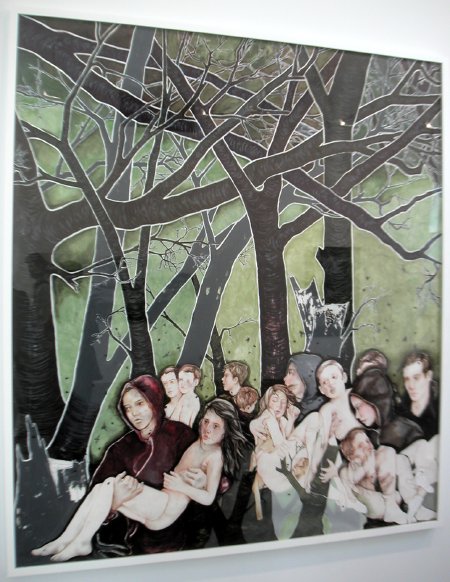 Anthony Goicolea Fleeing 2005 acrylic, ink, graphite and collage on Mylar 85" x 75" installation view
It's not just the (always amusing, sometimes enigmatic) manipulated, multiple-self-modelled large-scale photographs any more. Anthony Goicolea is also now working with complex layered drawings, sometimes almost monumental in both their size and imagery, and with large-scale video installation.
The photograph-based work continues, with still more complex manipulations, but everywhere the simple amusement quotient has been suppressed a bit, and the work has grown immensely as a consequence.
It was a relatively quiet afternoon in Chelsea today but the benches in the little rustic barn Goicolea had erected in the back room of the Postmasters gallery space was full, with a crowd (mostly very young) waiting or peering in from outside. Methinks the artist is on to something here.
The show is called, "sheltered Life." From the gallery press release:
The sense of foreboding tinged with playful fantasy characteristic of many of the photographs is mimicked in a suite of complex figurative drawings on mylar. Androgynous figures of indeterminate age float on top of and through each other in a layered composition separated by planes of semi-opaque vellum paper. The ghostlike figures are caught in free-floating, awkward, transitional states: sometimes their images are doubled; sometimes they seem like as much animal as human. As the figures migrate through the forest in small packs, they fade in and out of each other in a series of tentative lines that read like traces of previous drawings and refer to memory and transition.

A large white barn occupies the second room gallery and acts as a shelter within a shelter while housing a 15 minute single channel video entitled "Kidnap". The video recounts the tale of a young boy's obsession and paranoia of being kidnapped. Shot in the Swiss countryside, several characters dressed in red-hooded uniforms engage in a series of clandestine rituals that unfold in a fairytale-like sequence.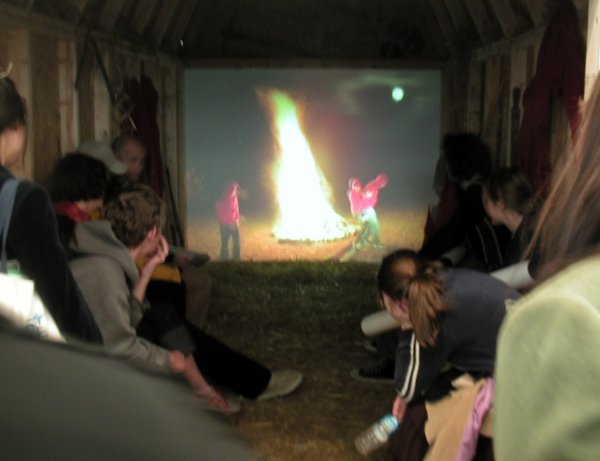 Anthony Goicolea Kidnap 2004-2005 video installation, 17 minute DVD