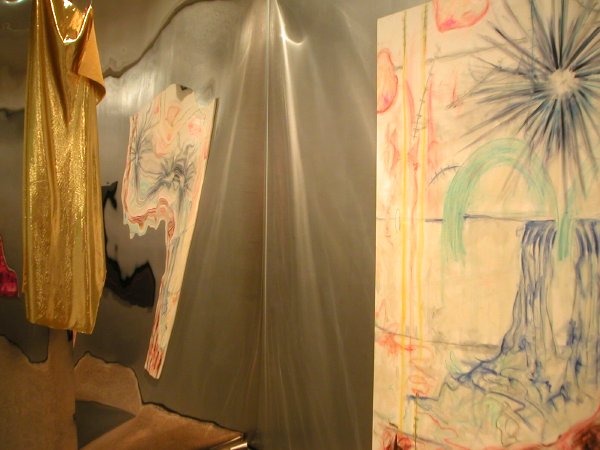 Thomas Erben Gallery, installation view of the work of Jutta Koehter (reflected in the mylar screen and in detail on the right is Falling . . . Waters from 1995
I've been fascinated with Jutta Koether for years. I knew nothing about her earlier reputation in Germany, so I have to believe it's Pat Hearn's fault. I revered her artist choices even when I didn't understand them, and during the 90's she gave Koether, then a New Yorker, six solo shows in about as many years.
Thomas Erben has assembled something of a New York retrospective (1990's to the present) of an extraordinarily colorful creative artist who is at home in many disciplines considerably removed from the dramatic paintings included in the exhibition on West 20th Street, and the gallery has donned a party dress for the occasion.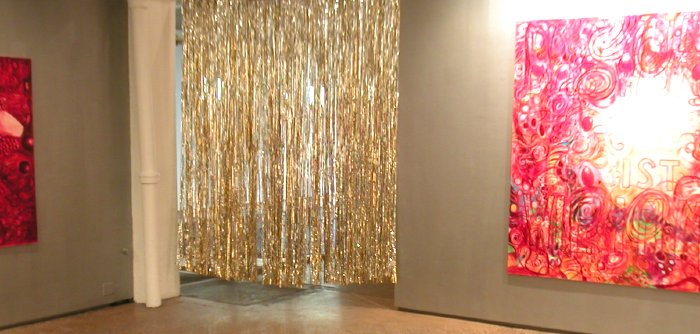 Thomas Erben Gallery, view of gallery entrance and installation of the work of Jutta Koether (in large detail on the right is Das Wunder from 1990)
For a straight view of more current work, here is an image from the gallery website: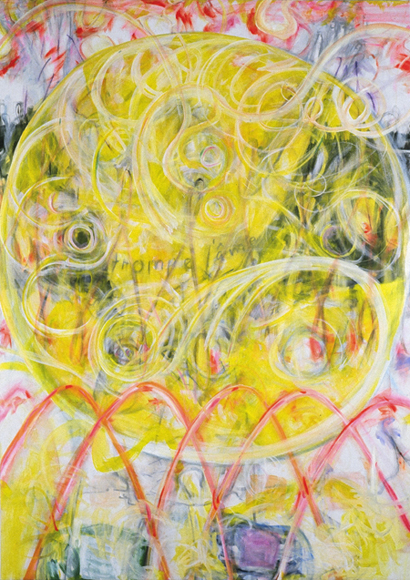 Jutta Koether Coronal Holes and the Sunny Eyes of Women 1999 oil on canvas 72" x 52" (inscription: "Trompe L'aime")
[image at the bottom from Thomas Erben]