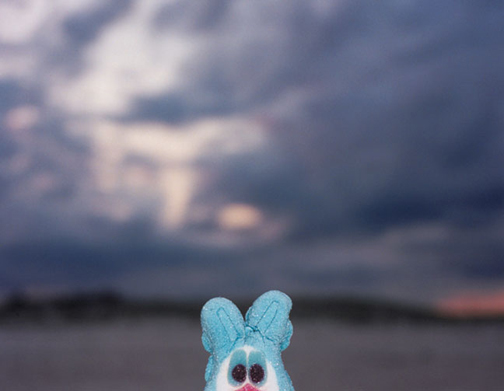 Meredith Allen blue bunny #5 (blue sunset) 2000 C-print 8.5" x 11.5"
Meredith Allen is showing her wonderfully-inspired combination of concept, color, abstraction and humor in a show of new work, "Forever," at Sarah Bowen Gallery in Williamsburg.
From the press release:
In Forever, a series of photographs portrays the artist's mother's loving yet obsessive collection of beanie babies preserved in found plastic packing materials as well as clear Ziploc bags. The photographs are at first glimpse personable; however the literal and somewhat amusing presentation of beanie babies enclosed in plastic bags becomes more unnerving upon examining the logical yet perverse nature of encapsulation as a cherished act of preservation.
The image at the top of this post is obviously not part of the show, but I wanted to show it here anyway. It's a favorite of mine. It haunted me from the first moment I saw it, I think because its sweetness didn't hide a suggestion of mischief, vulnerability, even terror.
Blue Bunny
is part of an older series, "Sugar Tales." I don't think it's been shown anywhere yet.
Allen's own site, which was incidently built by Barry, includes many more really great images, both from the current show and of older work, but two of her beanie babies are shown just below.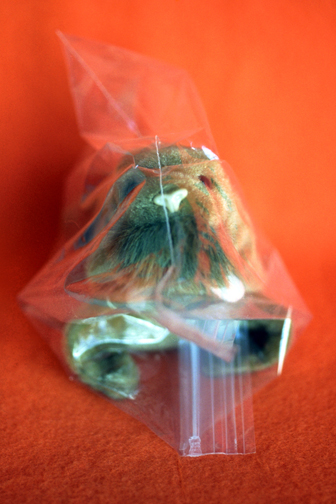 Meredith Allen Forever (walrus) 2005 digital archival dry pigment print 11.5" x 17.25"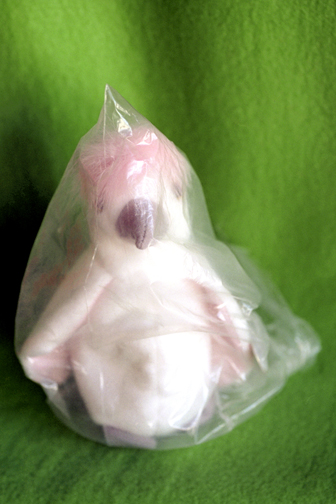 Meredith Allen Forever (cockatoo) 2005 digital archival dry pigment print 11.5" x 17.25"
[images from Meredith Allen]