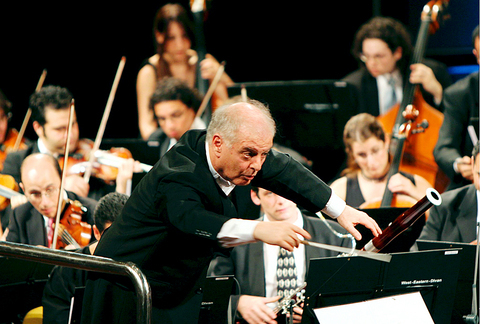 playing for peace
In a project begun with the dream of his late friend Edward Said, Daniel Barenboim finally made it to Ramallah with his West-Eastern Divan Orchestra last night. Members of the orchestra, founded in 1998, come from Israel, Palestine, Syria, Lebanon, Egypt and Jordan.
The sound of Beethoven's Fifth Symphony drowned out the staccato of bullets on Sunday in the conflict-ridden Middle East as world-famous conductor Daniel Barenboim dazzled his Ramallah audience with both music and words.

Playing under the theme "Freedom for Palestine," Barenboim and his new West-Eastern Diwan [sic] orchestra were able to break all barriers and help an audience fatigued by strife to enjoy two hours of pure music from Beethoven and Mozart.

. . . .

The 1,200-seat auditorium of the Ramallah Cultural Center was packed with a Palestinian, international and even Israeli audience an hour before the baton was scheduled to drop. As the seats filled, hundreds others milled in the hallways and the aisles hoping to get a seat or just to be allowed to stay in standing room and listen to Barenboim and the orchestra.

The same audience stood for 15 minutes, enthusiastically clapping and yelling "bravo" after Barenboim concluded the performance, giving Palestinians in Ramallah a chance to forget the checkpoints, the occupation, the wall and everything that has made their lives void of spirit, as one member of the audience remarked after the concert.

Outside the auditorium, the reality for West Bank residents had not yet changed after the concert, as Barenboim hoping to achieve with his music and orchestra.

A few audience members had to leave early to get home before some checkpoints at entrances to Ramallah closed. Others who waited until the end and headed home after the concert had to stop in long lines of cars waiting at checkpoints to be able to reach their homes. Barenboim realized this reality, and this is why he brought his new orchestra to Ramallah.

"What I want to say to you," Barenboim told the audience after the orchestra finished playing, "I have already said in the music.
But it
wasn't easy
getting there.
[image from European Pressphoto via Taipei Times]