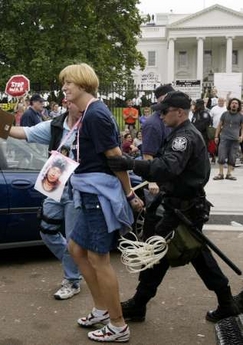 dangerous woman
Cindy Sheehan has been arrested for not moving from the sidewalk in front of the executive mansion on Pennsylvania Avenue. White House press secretary Scott McClellan:
"it's the right of the American people to peacefully express their views. And that's what you're seeing here in Washington, D.C."
And it's the right of a pseudo-authoritarian regime to arrest us if we try it without asking permission.
[image of Molly Riley from Reuters via Yahoo!]