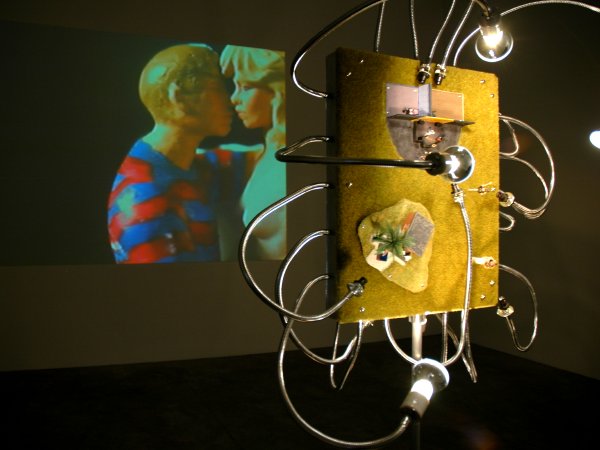 Jennifer and Kevin McCoy Double Fantasy II (sex) 2006 mixed media sculpture with cameras, lights, electronics, projected video output, approx. 7' x 11' [large detail of installation]
The show closes in two hours, but the gallery will still have some good images after today, and maybe a piece in the office. Anyway, I'm sure they'll be back again. I'm referring to Jennifer and Kevin McCoy and their Postmasters show, "Directed Dreaming".
From the Press release:
The title of the exhibit refers to practice of willing oneself to dream about specific situations in order to resolve conflicts in one's waking life. The works in Directed Dreaming fuse cinematic, personal, and historical images to become visual records of those conflicts, with the question of resolution left open to the viewer.

The McCoys' sculptures are fragmentary miniature film sets with lights, video cameras, and moving sculptural elements. Camera views are sequenced to create live cinematic events. By exposing the image making apparatus along with the projected results, the work explores both time-based and physical reality.
I thought the smaller works with simpler mechanisms were just as effective as the larger, multicamera, multimedia installations which make use of several rotating sets and soundtracks. Either approach seems essential to the artists' exploration of anxiety, but I have to admit that the the big guys really are spectacular.