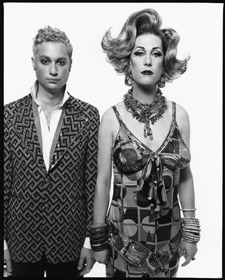 in formal mode
The brilliant downtown team of Kiki & Herb has taken a summer share on Broadway. I've been a huge fan for years (of these two, not Broadway), so although I haven't seen the show which opened last night, I have no doubts that the increasingly really silly "Great White Way" is embarassed this morning - embarassed about the fare being proffered to the tourists in most of its other theaters.
Justin Bond and Kenny Mellman are incredible artists, and still much, much more.
Choire Siccha has a terrific piece written before the show opened and Ben Brantley doesn't seem to have enough good things to say about what he saw from the aisle last night. NOTE: The NYTimes site also has an audio and slide show, but you really have to be there.
[image from the Paramount where it is uncredited and the web site down]