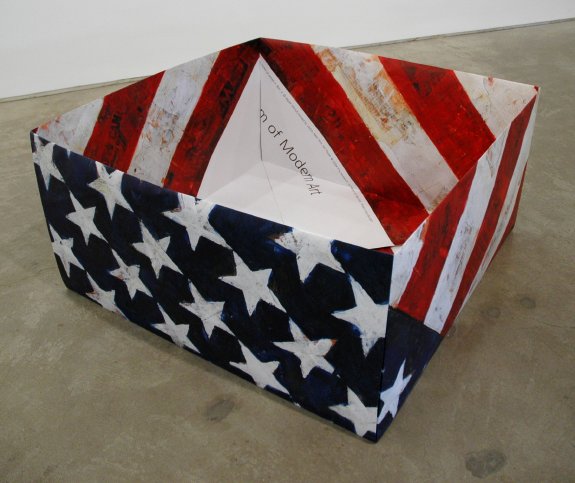 Pierre Bismuth One Thing Made from Another; One Thing Used as Another 2006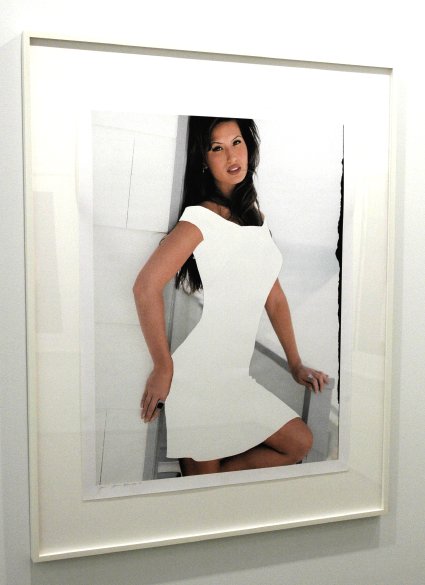 Pierre Bismuth Collages for Men – Clare 2003 Inkjet print and collage 57.5" x 46" framed [installation view ]
It's not an easy collection, especially for August, but there are genuine rewards in the untitled small group show at Cohan and Leslie for intrepid enthusiasts who haven't left town for the summer. It's certainly a beautiful installation, featuring work by Pierre Bismuth, Ryan Gander, T. Kelly Mason and Karl Haendel.
I got Bismuth right away, (almost) without the help of the press release:
Pierre Bismuth (lives in Brussels, born 1963) is best known for videos and objects that subvert the products of contemporary culture. We will show three works from an ongoing series called "Collages For Men" in which Bismuth appropriates images from porn magazines, undermining their lascivious purpose with the addition of cut-out, collaged clothing. We will also show a new sculpture called "One thing made from another, One thing used as another", consisting of an oversized reproduction of a MoMA poster illustrating Jasper Johns' 'Flag' painting from 1954-55, folded origami-style to mimic a typical Donald Judd "Box" sculpture.