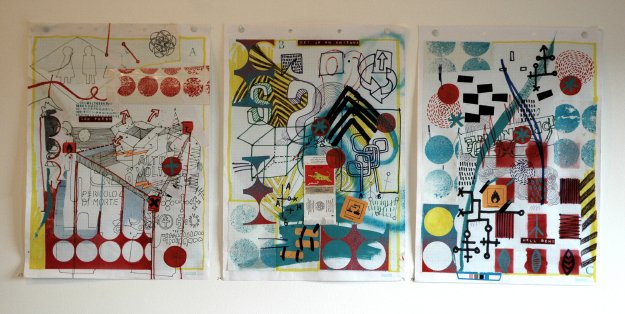 David Schillinglaw Box Fresh, Get up your antenna and Hell Bent, all 2006, all mixed media on paper and all 17" x 11" [installation view]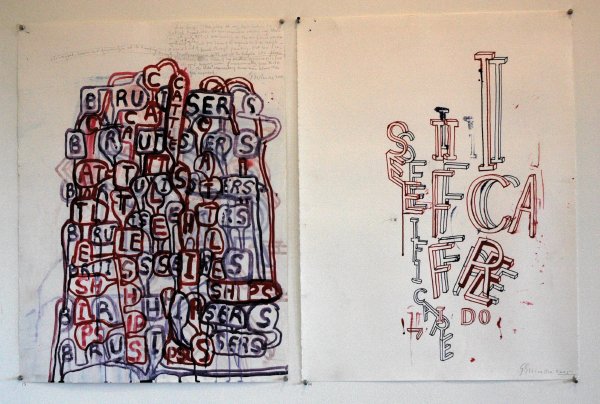 Graham Gillmore Cattle Bruisers and Ships paint on paper, 36" x 24" and See if I Care ink on paper 36" x 24" [installation view]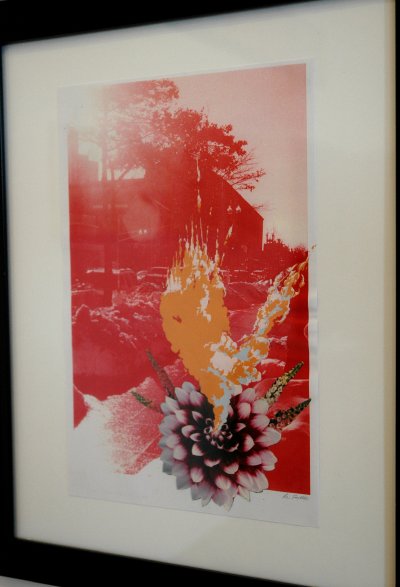 Robin Footitt Boston MA 2006 acrylic collage on paper 11.5" x 7.5" [installation view]


John Wells Untitled
Support your Local!
Now that I may have gotten the attention of some Brits I have to explain that my exhortation is not about patronizing your neighborhood tavern (and definitely not about sheriffs) I'm talking about encouraging local galleries, wherever they may be located, and wherever an art public may actually be located. The continuing pressures of the real estate market on an island city are forcing many of our smaller, more adventureous gallerists to move further and further from the heart of Manhattan, and now even away from the more central areas of Brooklyn. Of course those same pressures had already forced the artists themselves, and many of the curators who love their work, into boroughs which up to now have seen very little traffic from the art-curious, wherever these folk may live and work.
Over the last few years, The Bronx, and specifically the neighborhood located just across the Harlem River (and easily accessed) from Manhattan has become the site of one of these emerging, increasingly significant arts communities. Right now there are a handfull of galleries in the area around Bruckner Boulevard and a line running roughly in a trajectory above 2nd Avenue. They are definitely worth a visit, and there's even a comfortable tavern to reward your initiative.
The images above these paragraphs are from a group show of works on paper at Hagan Saint Philip. The complete list of the artists represented are Gene deBartolo, Robin Footitt, Graham Gillmore, Tim McDonnell, Sophia Nilsson, Wanda Ortiz, Joe Ovelman, Max Razdow, David Shillinglaw, John Wells.
Before Barry and I ended up at Bruckner's last Saturday we visited Haven Arts, where we are definitely looking forward to this show. We also got a preview of the show at Ironworks while it was still being hung for an opening that night. The images below are a hint of what you can expect from "Comics and Sequentials." Some of the other artists in the show are Juan Doe, Emily Blair, Wanda Ortiz, and Nathan Schreiber, but I don't have a complete list.
Some of these spaces either do not yet have a web site or else what there is may be little more than a domain. One of the things about this South Bronx phenomenon is the relatively casual or bootstrap nature of the operation of these galleries, but this is no gauge of their earnestness or their worth. In spite of the problems a small budget may create for gallerists, curators and artists, the fact that their structures are sometimes fairly skeletal just makes me more interested in getting up there more often, since the work can be very good - and I'll probably see much of it there first.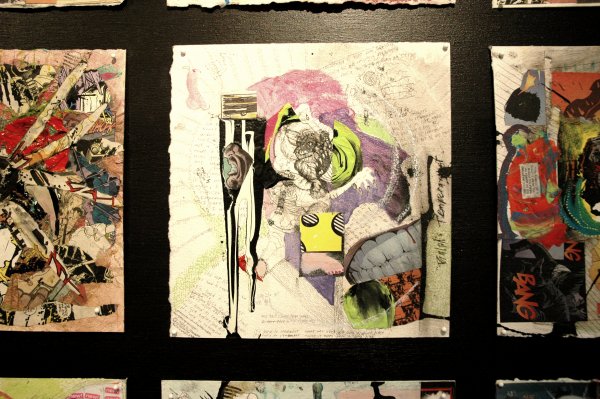 Nate Anspaugh [view of detail of installation]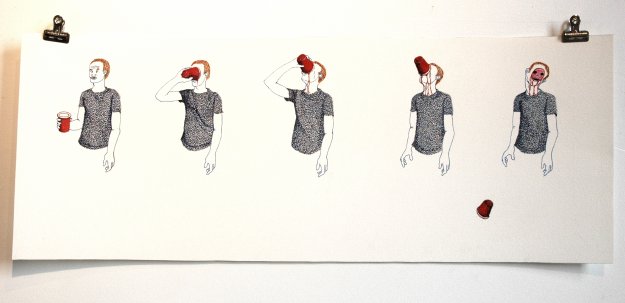 Kevin Golden Solo [installation view]