It was a wonderful block party, and I have no doubts that the show which attracted the crowd is a hoot, but I'm going to have to go back to check out Cory Arcangel's latest magic show. Openings are usually a real challenge for anyone who actually wants to check out the art, and this one one one of the toughest I've seen yet. I couldn't even get a decent photo image because of the crush.
I'll try again later in the run of the show.
Meanwhile, the parade of SUVs emptying out of the Holland Tunnel and heading east across Grand Street in pursuit of Friday night excitement in Manhattan had to squeeze through the smart, celebratory crowd which poured out of the doors of Team's new SoSoHo quarters and then proceded to just hang out for a few hours. There wasn't even the attraction of drinks, alcoholic or otherwise; just good conversation, pretty people and lots of smiles. The NYPD squad cars inching by didn't seem to know what to do about large numbers of happy people gathered together in polite society, without benefit of wheels of any description, on pavement laid a hundred years before the invention of the automobile.
I noticed that Mary Boone and gallery neighbor Jeffrey Deitch had to check out the goods inside, or maybe they just wanted to say hi. In any event I didn't see either of them hanging out on the street on their way in or out.
A couple of crowd shots: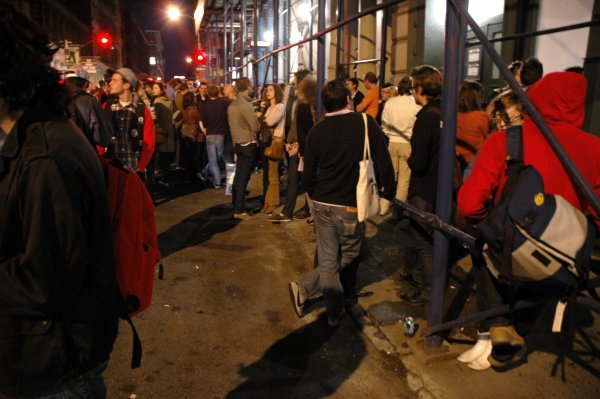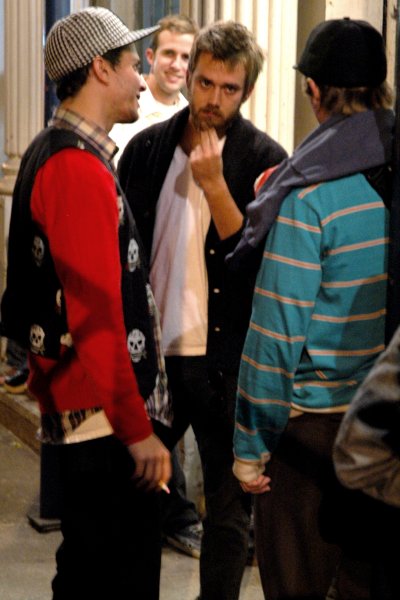 Closing in on Jacob and Jessica Ciocci, two thirds of Paper Rad, comfortably-ensconced on the ancient wall shelf with Noah Lyon: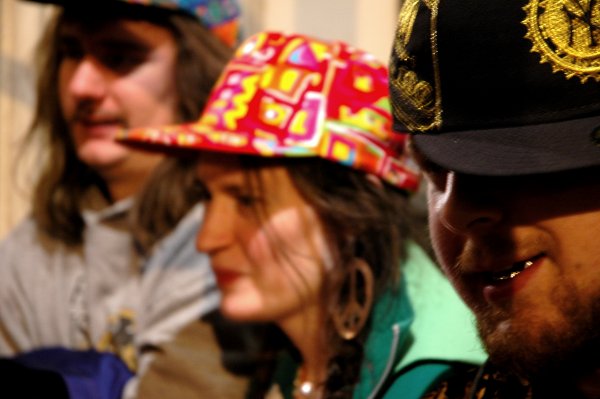 And, in separate smart clutches, two of our favorite gallerists, John Thomson and Michael Gillespie: