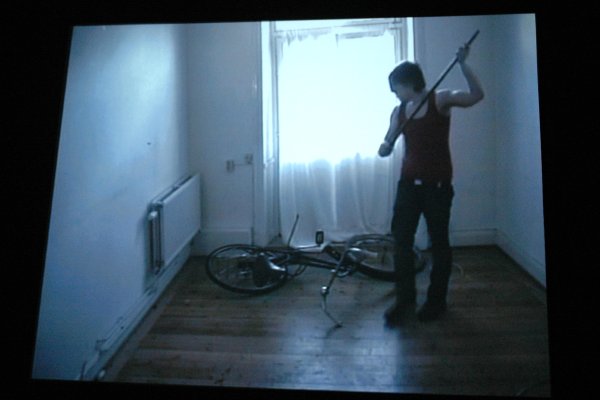 Klara Liden Bodies of Society 2006 DVD 4:50 mins [still from installation]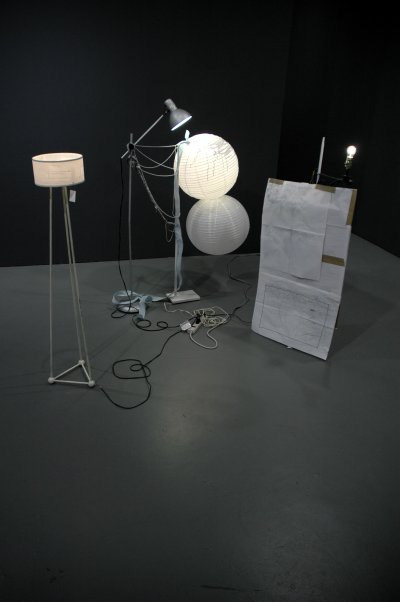 Josef Strau [installation view, three sculptures]
Reading Lamp 2006 mixed media lamp 49" x 9" x 9"
The Dependent Lamp 2006 mixed media lamp 58.5" x 46" x 20"
J Lamp 2006 mixed media lamp 53" x 23" x 13"
Something new. And something old, or at least not straight off the rack. One of New York's most important non-profit spaces is inaugurating what the gallery describes as the "White Columns Annual", in a show which runs until December 20. This first visit to a re-contexualization of art shown elsewhere in New York during the previous year (and deemed worthy of a second look) was organized by Director and Chief Curator, Matthew Higgs. Future annuals, we are told, will be the responsibility of independent artists, curators and writers [including bloggers?].
As this show is fairly cerebral a second visit might be in order even if the visitor had seen each of these pieces in their earlier presentations. The artists are: Fia Backström, Thomas Bayrle, Walead Beshty, Jeff Burton, Lucile Desamory, Graham Durward, Siobhan Liddell, Klara Liden, Ari Marcopoulos, David Moreno, Ree Morton, Matt Mullican, Stuart Sherman, Josef Strau. My immediate favorites were Klara Liden's erotic video and the literary lamps of Josef Strau, all illustrated above.