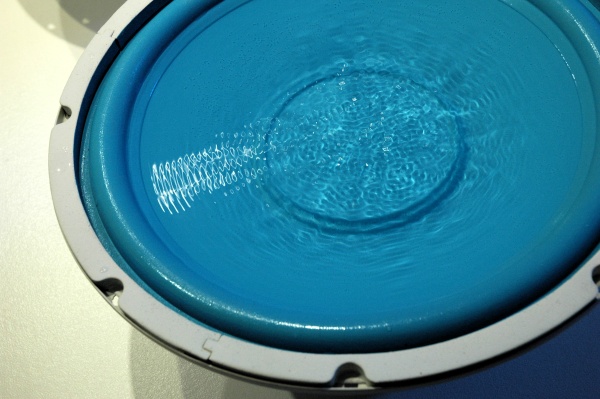 Douglas Henderson Untitled 2006 loudspeakers, wood, water, low frequency sound wave (CD, CD player, amplifier) 60" x 18" x 36" [detail of installation]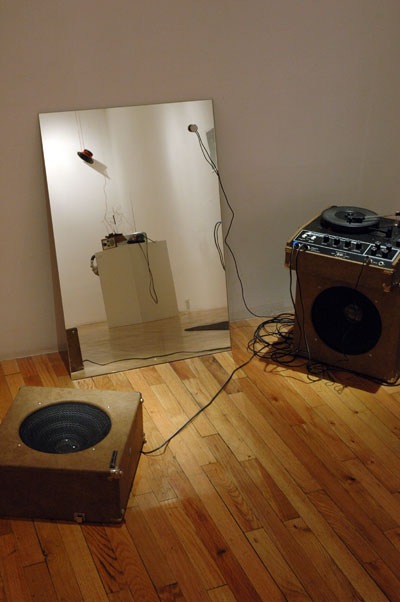 Christoph Dahlhausen and Michael Graeve Dialog 1.2.2 2007 mirror, contact microphone, record player, amplifier, loudspeaker, cables, dimensions variable [large detail of installation, the mirror reflecting details of works by Matthew Burtner and Stephen Vitiello]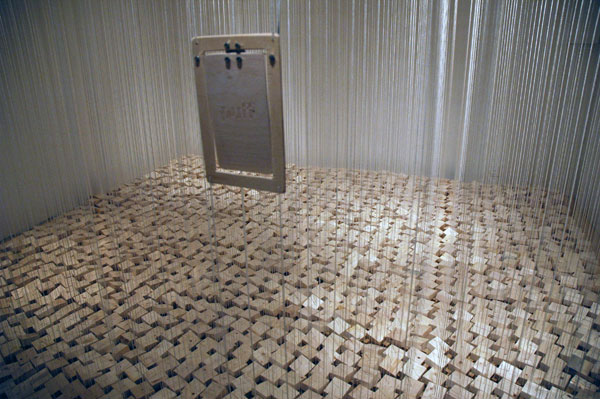 Douglas Irving Repetto puff bang reverb 2005 site specific installation: wood, string, motoers, wire, electronics, dimensions variable [large detail of installation]
Tribeca's Gigantic ArtSpace [GAS] is shutting down after three very interesting years. Whether just coincidental or with some deliberate, sad irony, the concept and title of the last show in this adventurous, not-so-gigantic gallery is "[Silence]". Anyone more than casually interested in the more radical but subtle visual and aural forms music can assume should make the pilgrimage to Franklin Street before February 24.
From the press release:
Gigantic ArtSpace [GAS] and free103point9 present [silence], an exhibition focused on artists' uses of and responses to silence - as manifested in sculpture, in installation, in composition, in works on paper, and in time-based practices. The works on view address the futility of the chase, the beauty of absence, and the rich potential of an empty signal. Works from: Matthew Burtner, Jeroen Diepenmaat, Michael Graeve & Christoph Dahlhausen, Pablo Helguera, < strong> Douglas Henderson, Pierre Huyghe, Tarikh Korula & Tianna Kennedy, David La Spina, LoVid, Juan Matos Capote, Lee Ranaldo, Douglas Repetto, Michelle Rosenberg, Stephen Vitiello, and James Woodfill. Curated by Dylan J. Gauthier and Galen Joseph-Hunter.