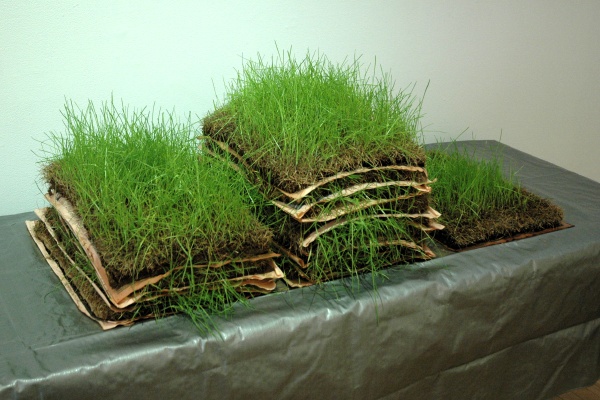 Gabriel Kuri Diário Econômico 2004/2007 newspaper, sod, tarp, dimensions variable [large detail of installation]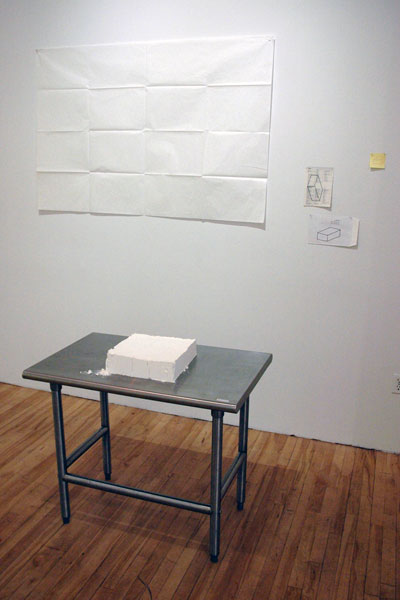 Joëlle Tuerlinckx Ça là (That's There) 2003 flour, drawings, dimensions variable [installation view]
In spite of any suspicions which might be aroused by the name of the show (the full title is "Let Everything Be Temporary, or When is the Exhibition?"), there is a lot going on in this apexart installation, curated by Elena Filipovic. There is also much to actually "see".
Like all gallery shows it will eventually close (in this case at the end of the week), but unlike most, this show is designed to fundmentally challenge the idea of permanence even when applied to individual works of art. While the conceit is certainly no longer a revelation, this beautiful group show of fairly-recent "pieces" (of which the oldest is dated 1991, although the artist specified that its physical form be continually renewed) bears new, simple and excellent witness to both the humor and the power of the idea of unstable art, expressed here in almost every medium, including two consisting of none at all.
An excerpt from the exhibition catalog describing the piece by Joëlle Tuerlinckx shown above gives one example of the precarious state of every one of the works represented in the show.
Ça là [That there] (1994) shuffles between original and copy, form and formless. As a perfect, rectangular cube of ordinary baker's flour, it sits monument-like on a table at the start of the exhibition. Held together by nothing except the invisible tension that allows the flour's temporary and improbable replication of the mold that it was once in, Ça là could at any moment give way to being a collapsed heap of the minute and disparate particles of flour that compose it. A sketch of the model on which the piece was based hangs nearby, suggesting the necessary gap between the "original" and the three-dimensional form that it never manages to equal or permanently reproduce.
The work of Gabriel Kuri arises form a very different impulse, and is more closely tied to the very gradual passage of time. The catalog provides few clues about the piece shown above, which by the way is installed on the top of a very conventional institutional folding table:
Waiting, that banal quotidian act that perhaps better than any other reminds one of the inexorable passage of time, is a recurrent motif in Gabriel Kuri'swork. Tied to it is a complex relationship between leisure and production, expenditure and speculation, which finds expression in the prosaic items that populate Kuri's oeuvre: cash register receipts, waiting stubs, daily newspapers, disposable shopping bags, and fruit labels, to name but a few.