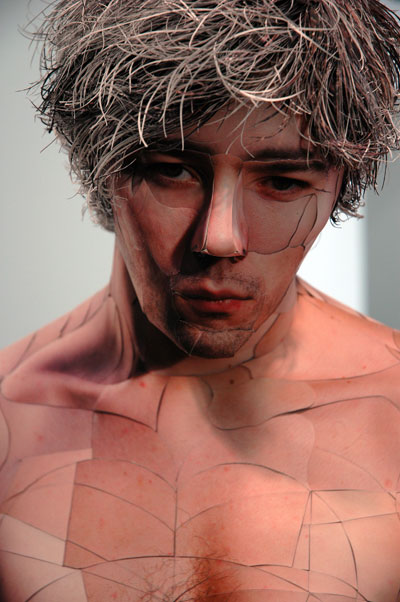 Oliver Herring Wade 1 2006 digital C-prints, museum board, foam core and polystyrene 68" x 22.5" x 15" [detail of installation]
Oliver Herring's show at Max Protetch closed on Saturday.
Everything in this multi-media installation was breathtakingly beautiful, but this life-size photo-collage sculpture of a young male nude was of another dimension altogether. I found it almost impossible even to stand in front of the piece in order to capture this image; I didn't think I could lower the camera, and I'm no prude. I don't know whether my unease was from being in the presence of such beauty (the entire body was as sensuous as the face and shoulders), or because this figure standing before me was strangely so much more alive than anything sculpted with surfaces less pellucid.
An excerpt from Roberta Smith's review of Herring's 2004 show in the gallery:
But the showstoppers here are two pensive life-size sculptures fashioned from hundreds of close-up photographs of a thin young man in his underwear and a beautiful young woman in a flowery sundress. The delicate patchwork beings, at once whole and dissected, suggest a mind-bogglingly painstaking process for all concerned, as well as artist-model relationships of unusual intimacy.
Go to the gallery site for more images of the show just ended.