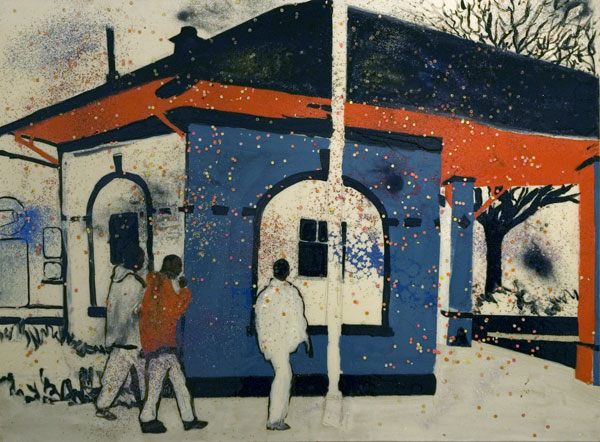 Valaire Van Slyck And even though we don't mean what we say, we throw our words like bombs and handgrenades 2006 enamel, acrylic, confetti, glitter and clear-coat canvas 36" x 48"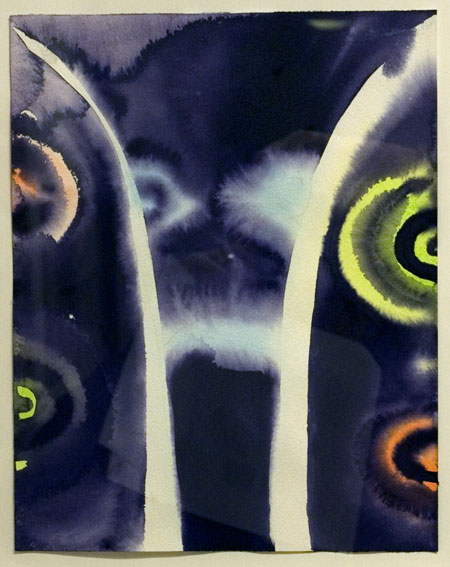 Andrew Guenther The Space Between Faces 2006 acrylic on paper 12" x 9" [installation view]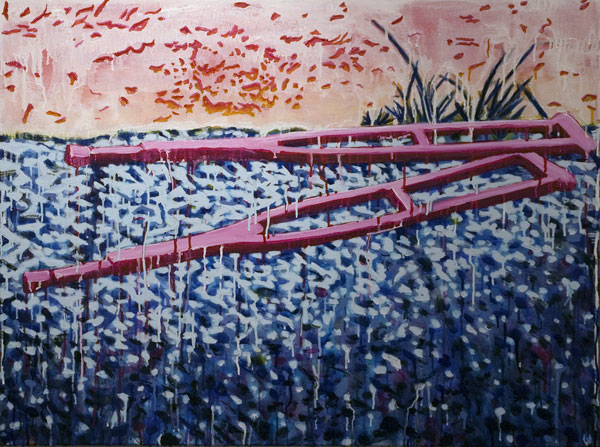 Brent Ridge The Execution of the King 2007 acrylic and pencil on canvas 30" x 40"
Two weeks ago, in my post about the Cynthia Broan show, "What F Word?", I wrote that my next entry would be something of a foil for its concentration on art produced by women. Sorry. I'm finally getting around to the men only now.
There seems to be an almost unanimous agreement that 2007 is to be the year of women and art (I hope the new attention is not just a vogue). There are big museum shows, important gallery retrospectives and even traveling exhibitions devoted to all sorts of angles on the modern history of what has always been the largest group of neglected modern artists.
The distortion and waste of this fundamental imbalance means that we've all been missing out on a lot. And that's not even mentioning the baleful personal consequences for the one half of the world's artists who have been locked out by the other - or by those who care for and feed them.
None of this is new to anyone reading these lines. We also know that everyone has a lot of catching up to do, even if there's no danger the art that men make will be ignored in the interim. All of which brings me to "A Cloudy Day's Epiphany", the group show installed currently at Chelsea's Dinter Fine Art, curated by Simon Cerigo. The artists are Devendra Banhart, Andrew Guenther, Brent Ridge and Valaire van Slyck. Dash Snow had been invited, but [perhaps because he's such a guy*] his work hadn't shown up by the time of the opening reception. I see his name is no longer included on the gallery's site for the show.
I walked into the Dinter immediately after leaving the Broan show. When I was reminded who had curated this one and recalled what I knew about his own art from a terrific show I had seen at Capsule gallery, I looked around and immediately saw "Epiphany" as a boys' club. But this actually seems to be the good club, the one you wouldn't mind being a part of, even (or perhaps especially) if you were a girl.
It's a very good group and there's some very good work. I don't think this is work which can be used to dramatize a male/female artistic dichotomy, and it's not just because of the tie dye and glitter elements. I'm glad that even guys now seem to know that it really does take all kinds to make this world, and that we may finally be trying to come to terms with that reality.
p.s. It's a four-artist show and, as I'm only including images of three, I feel I have to explain: I just didn't get a good image of any of Devendra Banhart's works.
*
or maybe there's another story