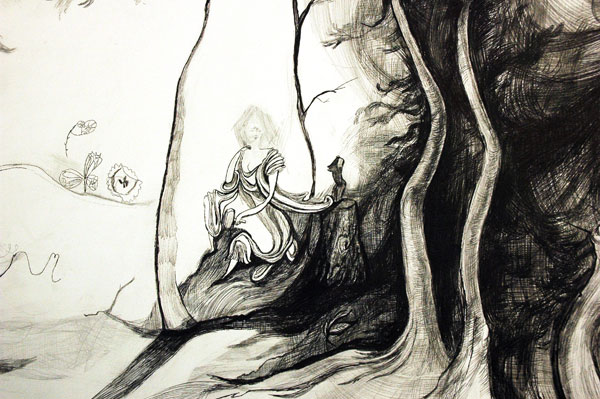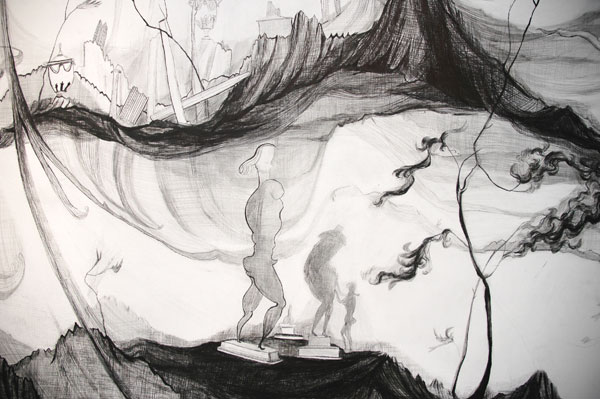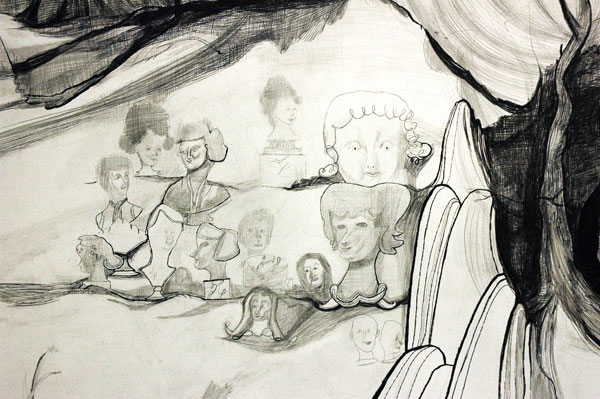 Sarah Peters Being American 2007 pen and pencil on paper 42" x 240" [details of installation]
I was going to post about some very good shows we had seen earlier, but this show got in my way. I suppose it's because we ended up buying a drawing ten minutes after walking into the opening reception for Sarah Peters's first solo show at Winkleman Gallery on Saturday. I couldn't wait, and I thought I shouldn't, to explain.
This body of work by Peters may have struck a chord in me, but it's more than a personal connection that drew me to the drawings. The work is wonderful. It's very strong and I'd be charmed by it even without a very particular relationship to its subject.
I lived in New England for twenty years before moving to New York and during that time I grew totally comfortable with, no, I fell in love with the history and the aesthetic of one of this country's most idiosyncratic areas, a distinct region which played an extremely important role in the creation of a national culture and its mythology.
Peters draws from an eighteenth (and early nineteenth) -century America mostly settled by Europeans who were interested in establishing, to the best of their knowledge and abilities, what they understood as a European culture, but one built on a new, idyllic continent they believed to be largely their own creation.
Art, many would be surprised to hear then and now, was always a part of the experience of New England and the Atlantic seaboard, even if most early Americans would have to wait one or two hundred years before they even had access to anything like the semi-provincial academy represented by William Rush or the Peale family, both of whom appear in Peters's work at Winkleman.
There was always folk art, including examples produced by the genteel occupation of young women, by the genius of local and itinerant artisans, and by the enthusiasms of just about anyone with the luxury of a little time and the passion to create. Needlework, stencils, drawings, wall, floor, and furniture painting, frakturs, quilts, rugs, wood or stone carvings, reverse-paintings on glass, collages and decorated pottery are just some of the forms which can stil delight us today.
I grew to love the charming and often very eccentric examples of this naive art when I came across it in friends' homes, in house museums, old antique shops and even barns and yard sales (this was now decades ago), but I have to confess my taste in furnishing the home I restored as something of a house museum ran more toward the minimal, and my partner and I led an artist friend to any folk art finds we might come across. I had decided early on (with further inducement provided by a probate record which listed the deceased owner's meager possessions) that the fictional inhabitants of this modest 1760 clapboard house just wouldn't have had the time or the wealth to accumulate much treasure. For their sake I hope I was wrong.
Sarah Peters work addresses the imagery with which the people filling up this new continent described their ideals. She begins with a few stunning and quite haunting (anonymous?) portraits and continues with still lifes and fantastic landscapes populated by smaller noble heads and clothed and unclothed bodies in classical poses, both sober and quite silly, magnificent trees and lofty mountains, broken columns and covered urns, flower arrangements and Greek vases. While she's doing this she introduces an extravagance which only an intervening two centuries could have made possible. Think William Blake and maybe Alfred Stieglitz and Francis Bacon.
There is something definitely more than a bit off about these images with their art or historical references. Peters is no copyist. The show's title (also the title of the largest piece in the show, a monumental twenty-foot-long drawing after the nineteenth-century fashion for panorama paintings) is "Being American". It's about a world now long gone, but which in fact never existed as it was imagined at the time. I'd also say that the idea of this preposterous world impacts us today perhaps even more than it ever did in the past.
In the end however Peters gives us a very original Elysium, and for that we can be grateful, as Elysiums are as necessary as they are agreeable. I will quote part of the press release:
Through her ongoing exploration of the earnestness with which early American artists strived, but often failed, to match the formal achievement of their European counterparts, Peters presents a spellbinding vision of an imagined paradise where the artworks of 18th Century America that missed the mark (often due to their creator's misreading of an ideal that never really was) went to spend eternity.
Sweet.
Oh yes, here's an image, with a detail, of the drawing which we picked out for ourselves: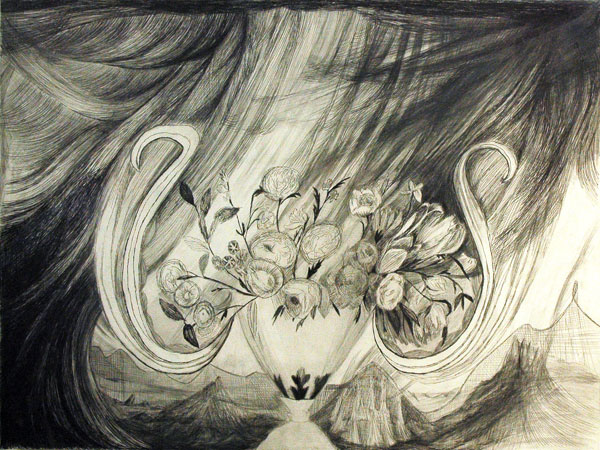 Sarah Peters Sťance 2005 pen, pencil and charcoal on paper 18" x 24"


[detail]