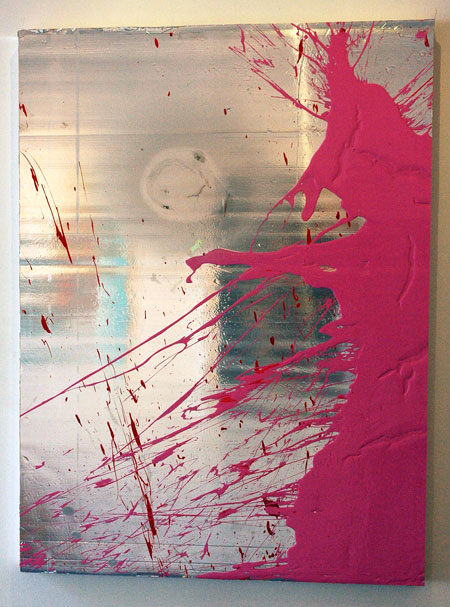 Rob Pruitt Under The Cherry Moon 2007 acrylic and oil on panel 36" x 30" approx. [installation view, the rectangular shape of the panel distorted here by the camera parallax]


[detail including unicorn sticker]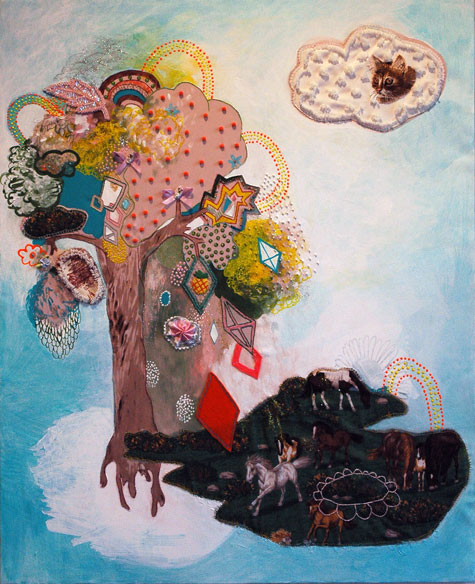 Dana Carlson What Cats Think About 2006 embroidery, beadwork, applique and paint on peach satin 32" x 25"
Even if the art weren't so good - and so much good fun - the titles should probably be a sufficient draw for this group show at the new-ish Smith Stewart gallery on, once again, the Lower East Side. Some of the best, even away from the works themselves, are Jamie Warren's "Untitled (Naoko/Squid teeth)", assume vivid astro focus's "Butch Queen 5 (Le Sport Sac)", Michele O'Marah's "Susie's Rainbow (Valley Girl Prop)", Marlene McCarthy's "Annointed: Beeville, Texas", and Jen DeNike's "Up, Down, Strange, Charmed, Top, Bottom" and J Penry's "To Dream of Flying Papillon".
The other artists are Hrafnhildur Arnardottir, Jim Krewson, Meredith Danluck, Ryan McGinley and Amy Carlson.
The title of the exhibition itself is "She Was Born To Be My Unicorn", and it was curated by Amy Kellner [in her spare time, writer, photographer, VICE editor, blogger, bon vivant and teenage unicorn].
Barry has an image of Nicole Eisenman's piece.