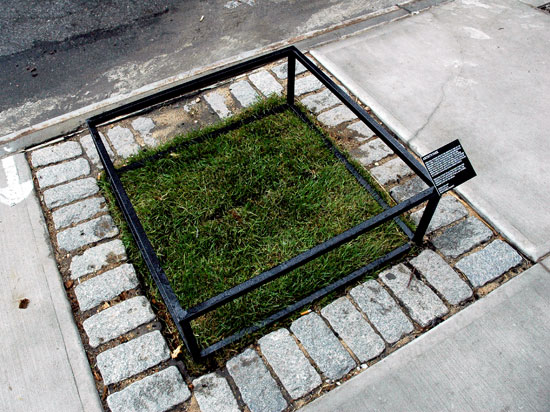 Scot Kaplan Artist's Park 2007 mixed media, dimensions potentially variable [installation view]


[detail]
We can never have too much park - or too many artists - and an "artist's park" sounds like a good thing to me, even if it's smaller than a nightstand. I came upon this piece by Scot Kaplan on the south side of West 24 Street while bouncing from one gallery to the next two days ago. Maybe it's also some kind of homage to the Beuys basalt pieces two blocks south on 22 Street. The sod looks like it just got there, but I did spot a small piece of cellophane and one bird feather lying on the grass.
The galleryese verbiage in the caption below the photo is mostly my invention.
I really hope this thing's a permanent installation.