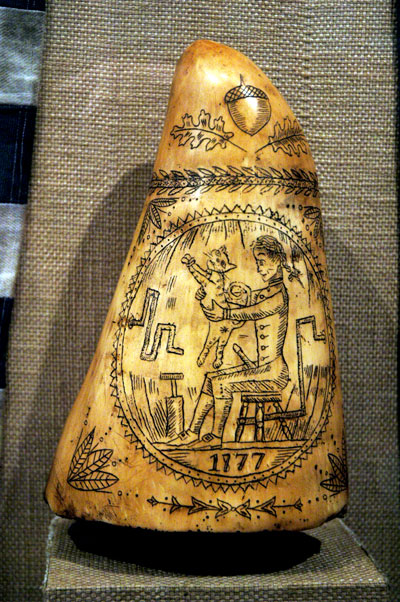 Duke Riley Burgees attributed to seditious faction of Marblehead Militia 2007 [detail of vitrine displaying items salvaged from the vessel, including "Tooth of giant sperm whale believed to have been engraved by Davis"]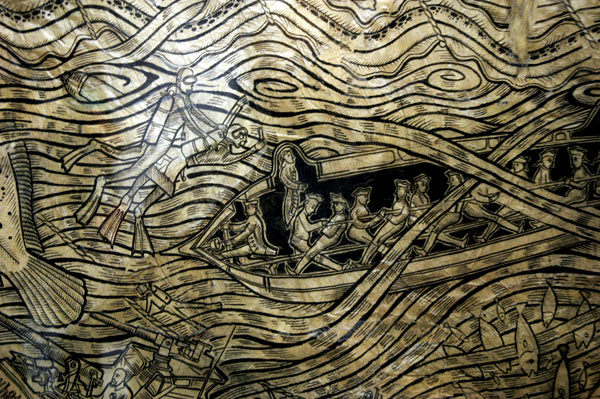 Duke Riley After the Battle of Brooklyn 2007 ink on canary paper 87" x 86" [detail of installation]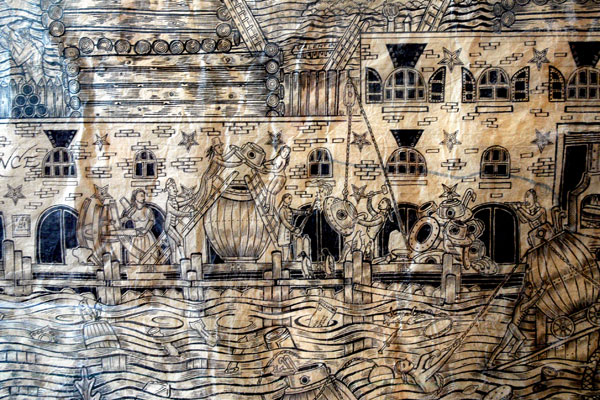 Duke Riley Curtains for the Free World 2007 ink on canary paper 74" x 111" [detail of installation]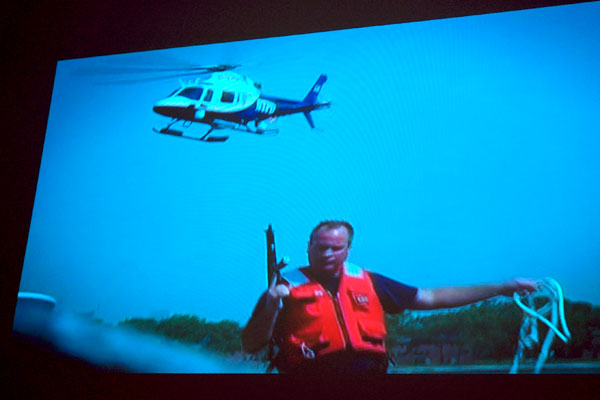 [video still from installation, showing armed NYPD harbor unit capturing The Acorn at sea]

Duke Riley The Acorn Submarine 2007 approximately 8' x 6' [installation view]


[detail of the The Acorn cabin seen through the lower porthole revealing ship's library, evidence of exhausted rum ration, and hull damage suffered during seizure of the vessel by the Coast Guard]


[detail of The Acorn cabin revealing ship's library]
By this time readers of this blog won't be surprised to hear that Barry and I were at Thursday's opening of Duke Riley's show at Magnan Projects, "After the Battle of Brooklyn: East River Incognita II".
This time we are treated to the story of the interrupted voyage "The Acorn". The gallery press release explains that Riley's gallery projects are presented in gallery spaces in museum-like settings, with "artifacts of questionable provenance and mock documentaries . . . presented alongside drawings and mosaics".
This exhibition, After the Battle of Brooklyn, revolves around historical obscurities that took place in New York during the American Revolutionary War. In addition to drawings, mosaics and videos, Riley constructed a replica of the first primitive Revolutionary War submarine ("The Turtle") that is propelled by a hand crank and submersible for up to 20 minutes. In 1776 George Washington's Continental Army used these subs to target the British flagship The Eagle. Putting a contemporary spin on this idea, Riley launched his submarine ("The Acorn") while the Queen Mary 2 was docked in the Brooklyn Harbor and captured the attention of the Coast Guard, NYPD and major newspapers.

Riley's art appeals, and succeeds in its appeal, on virtually every level. He shows a remarkable degree of comfort with both his materials and his subject, and he uses it to describe a very personal relationship to a mélange of regional geography and history, the twenty-first century's politics of disaster and absurdity, the inescapable claims and demands of the media (including a self-referential look at news coverage of
his arrest
with the "Acorn" submariner), the shape of our environment and the complexity and the complications of a contemporary community, a rich surviving mythology and a healthy and very graphic omnisexuality, all of these embedded in an infectious wit. That sounds like a lot of ground to cover, but it really is all there, and it's regularly delivered to us with enormous charm, in both visual and performance art forms.
Superficially each of these pieces may at first have the aspect of a homey, antique craft and the performances may look like stunts, but it's the art that survives our scrutiny and in the end his hand skills and his adventurous exploits are revealed to be only some of the many tools Riley recruits to create this vigorous body of very creative work.
Because of the nature of the exhibition and the relative narrowness of the museum/gallery, your humble correspondent has had to confine his visual documentation to detail images of some of the displays. He would like to assure the reader that the work handsomely rewards a much less abridged examination.
The installation continues through December 22.