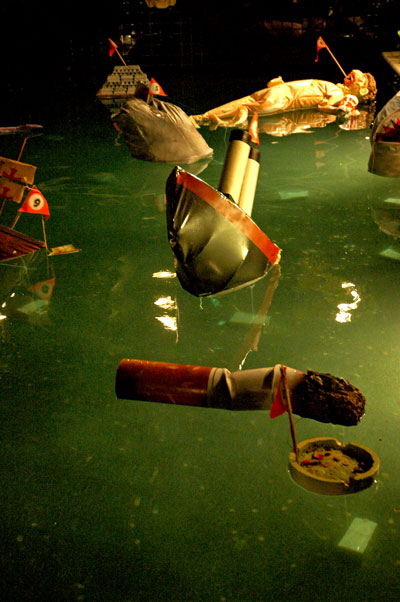 Bruce High Quality Foundation arthur kills again 2007 [detail of installation]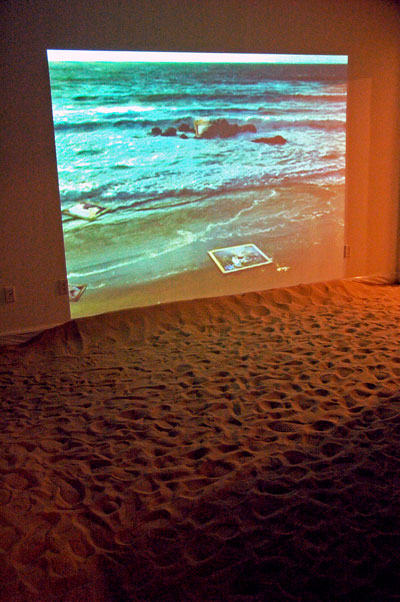 Eugenio Ampudia Impression Soleil Levant 2007 video [installation view]
I'm not going to be able to do regular posts while Barry and I are still in Miami for the two dozen art fairs and related events, but I wanted to get the word out on one particular smaller-scale attraction we visited last night which definitely hasn't yet gotten the publicity it deserves. If you're here in the topics this week, don't miss ArtHaus Miami.
The first image is of an installation which is something of a combination coin toss and miniature golf operation in the mansion's very formal backyard pool. It's all a very funny and imaginative take on the history of a wilder body of water located somewhat further north, Arthur Kill.
The second is of a video installed in an upstairs chamber of the house. It was at the moment I was taking this picture that I realized we had to had to leave for our next stop and come back when we have more time. Unfortunately, except to show this great installation, I can't say anything about the work itself right now.
These two pieces are among a great many more spread throughout the rooms and gardens created by dozens of artists. They are part of what is also known as ArtHaus UnFair 07. The haus is located behind an arched gate in a large old deco mansion at 1616 Drexel Avenue, just north of 16th Street, close to all the other Miami Beach art venues, and it's open from 1 until 10 pm through Monday.
Have fun!
_____
As for reports of my other favorite experiences of the fairs' bounty, I may be able to do some very brief posts including nothing but an image and an attribution. Because of time demands and only irregular access to the computer however, any real summary will have to wait for our return in the middle of next week.