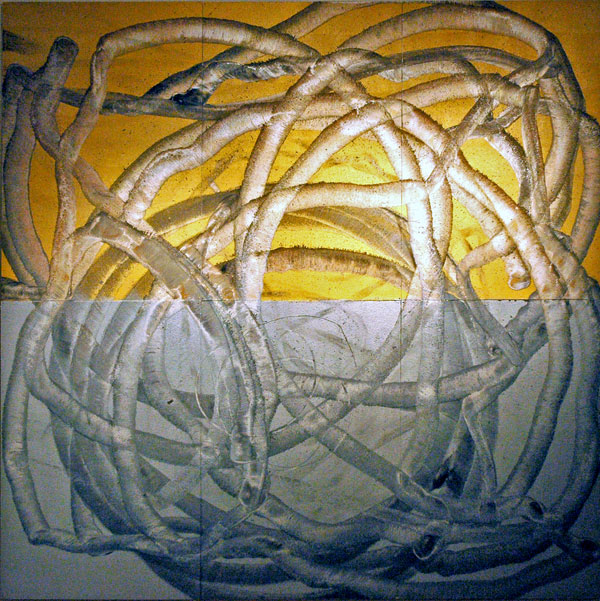 Aaron Young Untitled (silver and gold) 2007 acrylic paint and rubber on aluminum 144" x 144" engineer: Wink 1,100


[detail]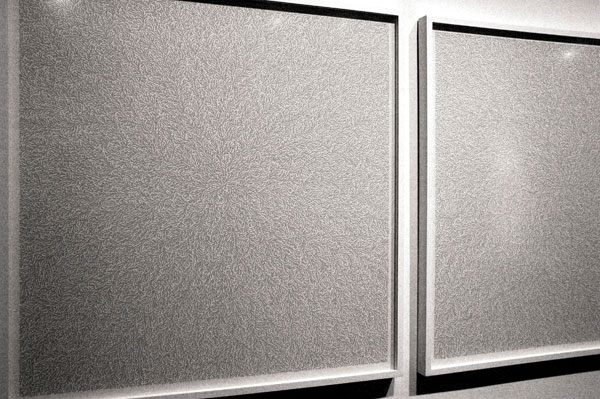 William Stone Branching Drawings 1996 computer printout on paper, dimensions variable, engineer: Charles Waldman


[detail]
I knew we had made a big mistake for not having visited James Fuentes's gallery yet. I mean, it's near our scary Police Headquarters, but I used to live not too far away from the site, and it's not really so very far from the Lower East Side neighborhood now hosting more and more worthy new gallery spaces. A visit to a new space on Broadway this past week confirmed the error of our neglect: It's going to be very hard to miss a show at 35 St. James Place in the future.
The latest show in his own gallery has just closed, but Fuentes was given responsibility for curating the inaugural show in the New York gallery of the Emily Harvey Foundation. After our visit there this past week and a look into the history of Emily Harvey and the ambitious young foundation bearing her name I'd say it's a perfect fit. The EHF space is a classic, finely-patinated second-floor loft on Broadway in SoHo. Fuente's installation, "Programming Chance", continues through this Saturday.
This small group show includes work by John Cage, Jean Dupuy, Alison Knowles, Ken Knowleton, William Stone & Aaron Young. Their connection here is the artists' shared interest in connecting their art to the genius of machines or computers (working with collaborators the curator calls "engineers"), although there are at least sixty years difference in the ages of the artists and engineers, and the works themselves range from the mid-sixties to 2007. This is clearly no fad.
And it didn't start just forty years ago: Da Vinci liked machines, but then he was his own engineer.
I confess I hadn't read Carol Vogel's NYTimes article on Aaron Young's installation/performance/painting last September. At a distance, the whole thing looked to me too much like hype and excess, perhaps both, but when I saw the large work by Young which concluded the chronology of this show I understood the excitement. It's terrific. Of course it was a great help, and a privilege, to have Fuentes himself deliver a commentary on this piece, and on each of the others in the show.