In my earlier post, and its addendum, I've shown views of the inside of the New Museum building itself; with this one I'm uploading images of [only some of] the works I found most interesting, and photographically accessible, on my too-brief visit during the press preview.
But first a serious, negative note about New Museum policy:

While I was able to take pictures as a member of the press visiting during a press preview, photography is not permitted in the Museum galleries to anyone without this status. This is a serious affront to the purpose of any museum of the visual arts, but especially for an institution devoted to broadcasting the work of artists who do not have public exposure or critical acceptance. In its own handout it describes itself as "A site of ongoing experimentation and questioning of what art and institutions can do in the 21st century . . . through programming that is open, fearless and alive." Especially in our contemporary world, where the camera is increasingly ubiquitous, and its own creative purposes progressiveley more diverse, how can photography be considered the enemy of an agenda of light, one devoted to making emerging visual art more visible to more people?

I am genuinely saddened, and a little frightened, by the kind of blindness I see among certain individuals and institutions in the arts world which produces blanket photo prohibitions. If you agree, don't be shy about telling the offending museums, and the occasional gallery, what you think about their wanting to keep some people in the dark.

I think no-photo policies are at best foolish and misguided, and at worst an indication of a craving for power or control. I see the phenomenon as an anachronism, and I have to believe it will ultimately be discredited as common sense comes to prevail among people of good will. If I am proven totally wrong on the last point, I think a gallery or museum photo ban will be among the least of our concerns: It would be only one aspect of a new, very dark age everywhere in our society.
And now, from my privileged camera: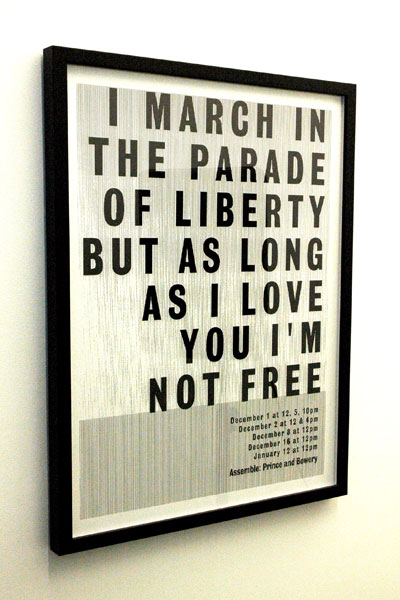 Sharon Hayes I march in the parade of liberty, but as long as I love you I'm not free 2007 site-specific performance piece [detail]
Hayes's wonderful, noisy piece is not part of the museum's major installation, "Unmonumental: The Object in the 21st Century", the first of a four-part exhibition to be mounted this winter. The images which follow however are all from "Unmonumental".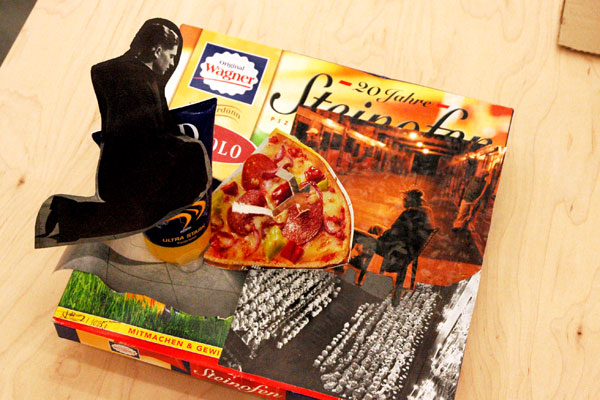 John Bock Untitled 2005 plastic bottle, cardboard box, paper and ink 8.5" x 10.25" x 10.25" [installation view]


[complete installation of all 14 works]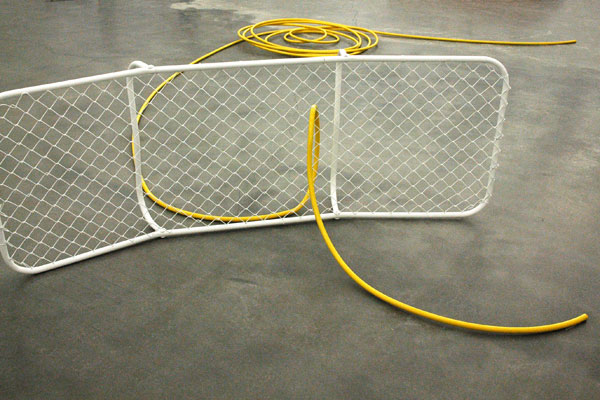 Martin Boyce We climb inside and everything else disappears 2004 powder-coated steel tubing, wire mesh, cast aluminum, one deck chair (white) and one hose tube (yellow), two parts, dimensions variable [large detail of installation]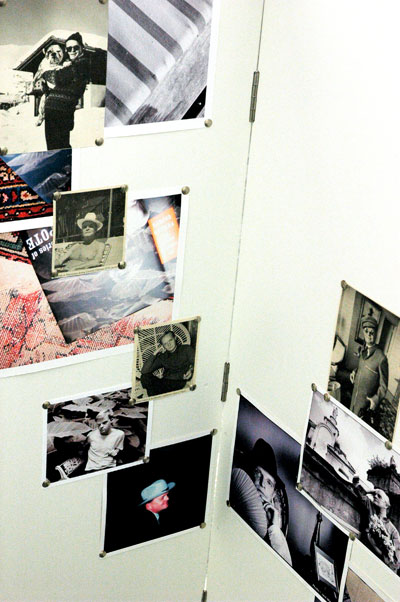 Tom Burr White Folding Screen (T.C. II) 2005 pained plywood, mirrored plexiglas, photographic material, hinges and pins 47.25" x 68.75" x 25.5" [detail of installation]


[full image, obverse]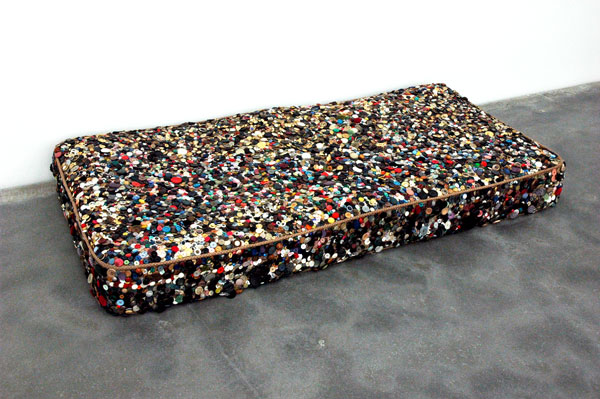 Jim Lambie Bed-Head 2002 mattress, buttons and thread 20.25" x 75. 25" x 50.75" [installation view]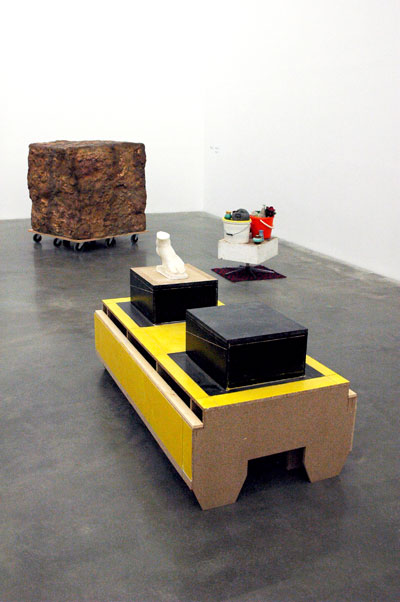 Manfred Pernice Commerzbank 1 2004 painted particleboard and plaster 38" x 32.5" x 66" [installation view, showing Pernice's "Untitled" to the right rear, and Rebecca Warren's "Cube" left rear]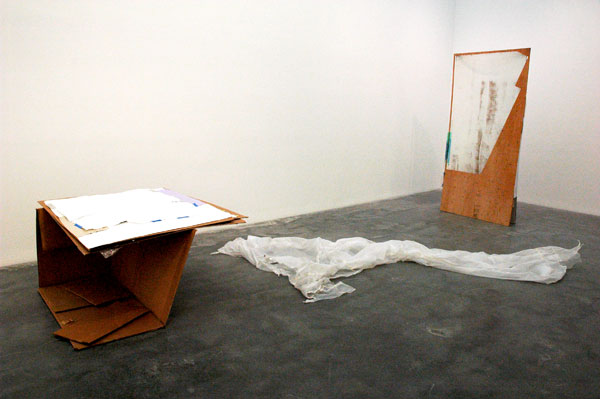 Gedi Sibony The Circumstance, The Illusion, and Light Absorbed as Light 2007 various materials [large detail of installation]