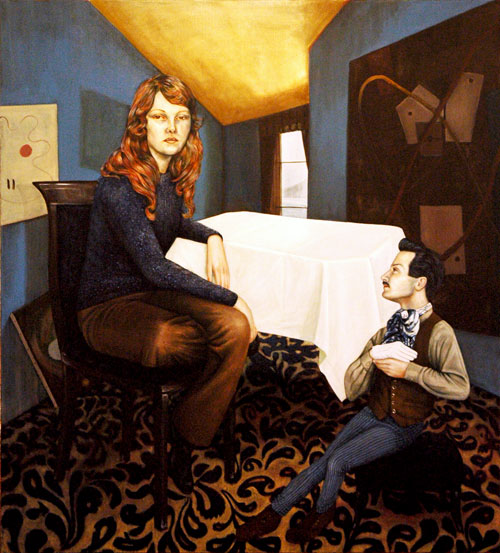 Norbert Witzgall Sophie Matt 2007 oil on canvas 57.5" x 63"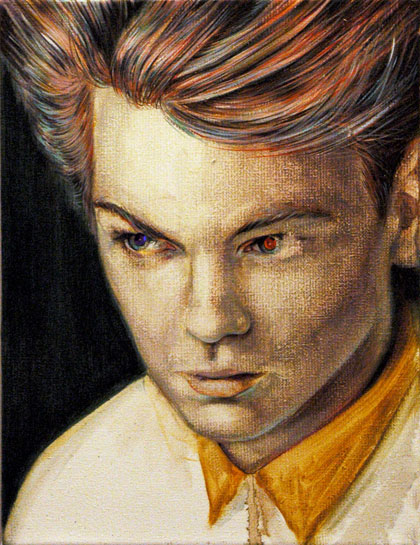 Norbert Witzgall Icy 2008 oil on board, paillettes 9.5" x 11.75"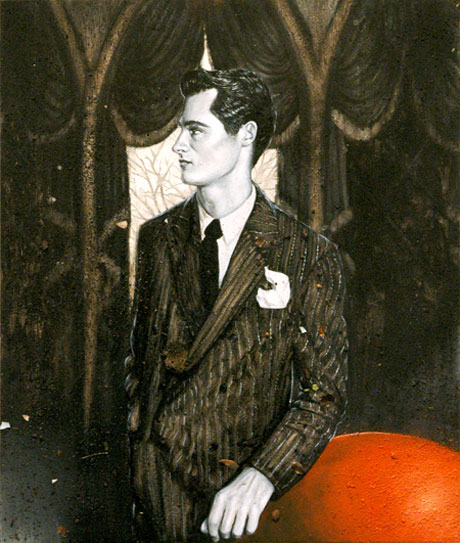 Norbert Witzgall Isi Baisia 2008 oil on board, dirt 12.5" x 15"
Venetia Kapernekas is looking more and more interesting these days. The current show, "wir", is devoted to some hauntingly-beautiful paintings by Norbert Witzgall.
There doesn't seem to be any easy way to describe their inspiration, but we get some clues in the large canvas (all of the other, smaller works are on board). In "Sophie Matt" the odd planes of a room which is (almost) dominated by a portrait of the artist Sophie-Therese Trenka-Dalton are hung with Picabia-inspired paintings. The inclusion of a dwarfish smaller figure, the instinctively-whimsical and seriously-inventive young artist Matthew Lutz-Kinoy, suggests either a renaissance devotional painting or the hermetic environment of the seventeenth-century Spanish court. Most of these odd and somewhat faded portraits of family members, friends, the famous and the forgotten, include a medium in addition to paint. Sequins, dirt, stars or pressed flowers, remove them even further from the convention which developed the genre over the centuries.
The gallery furnishes a useful list which documents the artist's image sources. "Icy" is a headshot of River Phoenix, "Isi Baisia" is a fashion photograph by George Platt Lynes of someone named Whitney.