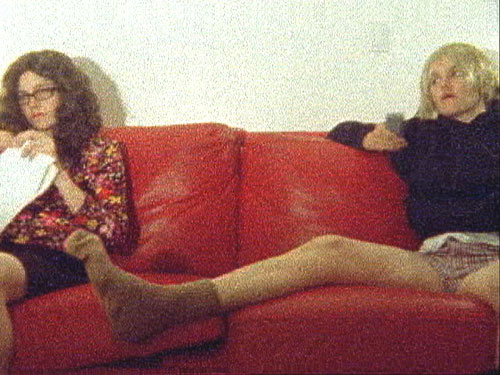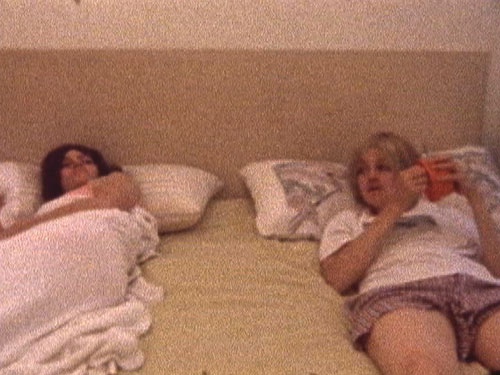 Shannon Plumb Together 2008 single-channel video [large details of two stills, the first from the segment "Tuesday", the second from "Saturday"]
Barry and I were both laughing out loud in the upstairs gallery at Sara Meltzer. It may even have been what brought Sara out of her office. It was only when I was home, hours later that I thought about how rare that kind of reaction to a gallery show really is. So, does that make the work suspect as art? Not as far as I'm concerned, and particularly in the case of Shannon Plumb's aggressively lo-fi videos, which have charmed - and provoked - me for years.
"Together", a 24-minute video shot on Super 8, is composed of seven films each describing the ordinary activities which make up a day in the week of a cohabitating male-female couple, He and She, who were inspired by her grandparents. Both are played in inspiring performances by the artist.
The gallery setting was an old Zenith console TV in front of two comfortable but undistinguished upholstered armchairs (one displaying a series of notches almost certainly carved by He), and almost totally-unremarkable carpet. We could have stayed for hours, or at least long enough to meet the two stars, but it seems they have retired from show business. The costumes, hair and mustache glue with which had initialed their colorfully-disparate performances were now inside two sealed glass jars resting on plinths arranged over to the side.
[images from Sara Meltzer Gallery]