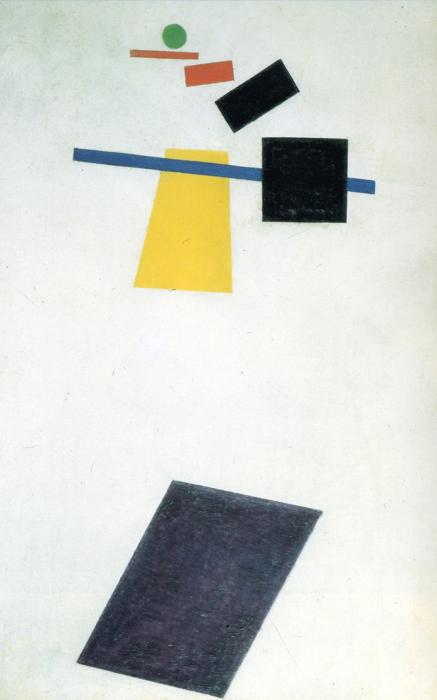 Kasimir Malevich Soccer Player in the Fourth Dimension (1915)
I'm a really bad PR person. Until now I'd neglected to tell people about a forum on video art which is connected to "WHITE BOX SPEAKS", and now there's only one day left of a full schedule of events which began seven days ago. I'm obviously bad with the fourth dimension, but I'm doubly bad this time because I was actually invited to the last presentation. It starts tomorrow (Sunday the 30th) at noon and I haven't written about it.
The forum of which I'm to be a small part is "CURATING TIME-BASED ART: THE FOURTH DIMENSION", but I think the discussion will address more than the concerns of curators alone. The event was organized by VideoArtWorld. It's at White Box, which is located 525 West 26 Street, between Tenth and Eleventh Avenues. The moderator will be Blanca de la Torre and the participants are Amanda McDonald Crowley, Natalie Angles, James Wagner, Eric Shiner, Marco Antonini, Heide Hatry, Micaela Giovannotti, Raphaele Shirley and Michelle Handelman.
Following the discussion, there will be a terrific video screening program, also at White Box, starting at 2pm. Go to VideoArtWorld for the complete afternoon program.
[image from wikimedia]