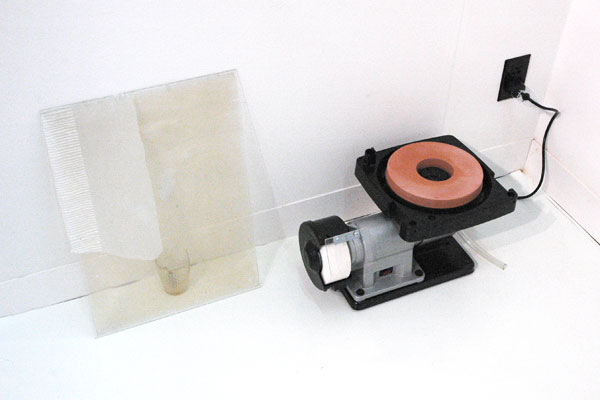 Cathy Wilkes Alone 2004 broken glass, glass pane, battery, grinding machine, dimensions variable [installation view]
I was stopped in my tracks by this piece at the Armory stand occupied by Glasgow's The Modern Institute and I haven't been able to forget it. It looked like someone might have been casually pitched these things into the corner after some emergency repair, and I'm not sure that the rather casual installation of the work wasn't totally appropriate to the artist's purpose.
That artist is Cathy Wilkes.
I regret not asking about it at the time and I've found nothing about "Alone" on line, but I did find a copy of a 2004 Sunday Herald review by Jack Mottram of a Cathy Wilkes show, mounted in a "decaying Dennistoun hairdresser's [salon]", from which I've excerpted this:
Her prosaic collection of unremarkable items, matched with made objects that don't exactly dazzle in isolation, are combined and placed in such a way that the relationships between them seems almost tangible, as if you could reach out and twang taut wires connecting each component part of the installation to its neighbour, and the surrounding space. This evocation of a tensile physical connection goes further still, seeming to engender a dumb complicity between inanimate objects and the space in which they find themselves.
I still don't know enough, but I know I wish I had been there, especially now as I remember how I excited I was by the awesome
show
installed in a similar environment in Brooklyn by
Jonathan VanDyke
last June.