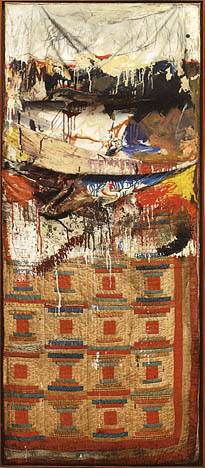 Robert Rauschenberg Bed 1955 mixed mediums 75" x 32" x 8"
Yes, the great man was queer. I had thought I made it pretty clear in my own post on March 14, but today I note that Tyler Green's Modern Art Notes has gone and shoved it down the prissy throats of both members of the "regular" media and the art world's own sophisticated pundits. Almost all of them seem not to have ever noticed, or, much more likely, were convinced it was too shameful a condition with which they could risk frightening the horses - or asses.
Green's post, "Hetero-normalizing Robert Rauschenberg", is totally on target, and bursting with links to his references and sources (there's even a link to his links on the subject).
Bravo, Tyler!
[image from MoMA]